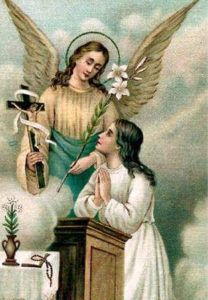 December 9, 2020
Once again, I (Maureen) see a Great Flame that I have come to know as the Heart of God the Father. He says: "Children, your spiritual 'house', like any house in the world, must be maintained lest the elements in the world destroy it. Your spiritual house is vulnerable to love of the material world, acceptance of any sin and infidelity to the Truth. You cannot shutter the 'windows' of your soul against every temptation. It is by your own effort every temptation is overcome through the help of your guardian angel.""Some souls lead lifestyles which leave them standing on the precipice of certain spiritual disaster. Unless they listen to the Truth of where they stand before Me, they will certainly slip over the edge and lose their souls, which is a far greater loss than the loss of their physical life. Self-knowledge, therefore, is the 'hammer' used to build your spiritual house."

Read Luke 11:9-10,28+

And I tell you, Ask, and it will be given you; seek, and you will find; knock, and it will be opened to you. For every one who asks receives, and he who seeks finds, and to him who knocks it will be opened. . . .But he said, "Blessed rather are those who hear the word of God and keep it!"

+ Scripture verses asked to be read by be read by God the Father.

 

9 de Diciembre del 2020
Nuevamente veo una gran llama que he llegado a reconocer como el Corazón de Dios Padre. Dice: "Hijos, su casa espiritual, como toda casa en el mundo, debe recibir mantenimiento para que los elementos del mundo no la destruyan. Su casa espiritual es vulnerable al amor al mundo material, a la aceptación de cualquier pecado y a la infidelidad a la verdad. No pueden cerrar las 'ventanas' de su alma para protegerse de cada tentación. Por sus propios esfuerzos y con la ayuda de su ángel de la guarda es como se superan las tentaciones.""Algunas almas llevan estilos de vida que las dejan al borde de ciertos desastres espirituales. Si no escuchan la verdad del lugar que tienen ante Mí, seguramente caerán y perderán su alma, lo cual es una pérdida mucho mayor que la pérdida de la vida física. El autoconocimiento, por lo tanto, es 'la herramienta' que se usa para construir su casa espiritual."

Lean Lucas 11:9-10, 28




También les aseguro: pidan y se les dará, busquen y encontrarán, llamen y se les abrirá. Porque el que pide, recibe; el que busca, encuentra; y al que llama, se le abrirá. …Jesús le respondió: 'Felices más bien los que escuchan la Palabra de Dios y la practican'.
RE: Latest messages are at Holy Love Ministries and Ministerios del Amor Santo