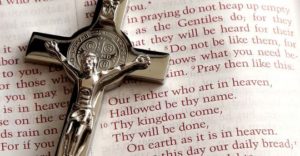 August 14, 2020
Again I see a great flame that I have come to recognize as the Heart of God the Father. He says: "Children, it is My joy to tell you the dates of the next two days of prayer. These days we will fill you with prayer; prayer for world peace. They are September 15, the day of the Sorrowful Mother, and October 7, Feast of the Holy Rosary. These prayer events strengthen the heart of the world in its determination to unite with My Divine Will. "

Prayer that is sweetened with love is the best prayer. Therefore, prepare for these prayer events by filling your hearts with much love, love for Me, your Creator, and love for the Holy Family. I will be waiting for you in My beloved place of prayer. "

"Ask the Holy Spirit to enter your hearts and prepare you for your spiritual journey in these days of prayer."

Read Galatians 5: 22-24




Rather, the fruit of the Spirit is: love, joy and peace, magnanimity, kindness, goodness and trust, meekness and temperance. Faced with these things, the Law is unnecessary, because those who belong to Christ Jesus have crucified the flesh with its passions and bad desires.

 

14 de Agosto del 2020
Nuevamente veo una gran llama que he llegado a reconocer como el Corazón de Dios Padre. Dice: "Hijos, es Mi alegría decirles las fechas de los próximos dos días de oración. Estos días los llenaremos de oración; oración por la paz del mundo. Son el 15 de septiembre, día de la Madre Dolorosa, y el 7 de octubre, Fiesta del Santo Rosario. Estos eventos de oración fortalecen el corazón del mundo en su determinación de unirse a Mi Divina Voluntad."

"La oración que se endulza con amor es la mejor oración. Por lo tanto, prepárense para estos eventos de oración llenando sus corazones con mucho amor, amor por Mí, su Creador, y amor por la Sagrada Familia. Los estaré esperando en Mi amado lugar de oración."

"Pídanle al Espíritu Santo que entre en sus corazones y los prepare para su viaje espiritual en estos días de oración."

Lean Gálatas 5:22-24




Por el contrario, el fruto del Espíritu es: amor, alegría y paz, magnanimidad, afabilidad, bondad y confianza, mansedumbre y temperancia. Frente a estas cosas, la Ley está de más, porque los que pertenecen a Cristo Jesús han crucificado la carne con sus pasiones y sus malos deseos.
RE: Latest messages are at Holy Love Ministries and Ministerios del Amor Santo