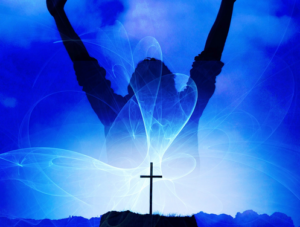 May 7, 2021
Once again, I (Maureen) see a Great Flame that I have come to know as the Heart of God the Father. He says: "Each person needs to be responsible for his own physical well-being by eating properly, exercising – in general, taking care of himself. The same is true of each soul's spiritual well-being. He needs a diet of prayer, seasoned with sacrifice. If the soul neglects this diet, he grows farther and farther away from Me – the Source of all good."

"These days, there is much disregard for the spirituality that each soul needs to tend to. The soul becomes starved for the nourishment of prayer and sacrifice. This disease of the soul receives little attention the more it is starved. Soon the soul is far distant from obeying My Commandments or pleasing Me."

"I speak this way today, to awaken hearts as to their spiritual journey. It is only through free-will choices that the soul can become and remain spiritually healthy. In this call to spiritual well-being, recognize that the soul that is not spiritually healthy is susceptible to disease just as an unhealthy body is. These diseases are anything that discourages daily prayer and sacrifices. The soul must pray to identify and recognize these negative influences. If he prays with a sincere desire for enlightenment, I will assist the soul in enlightenment."

"I am always on the side of the welfare of each soul. Pray for My guidance. You are never alone in any spiritual battle."

Read Psalm 139:23-24+

Search me, O God, and know my heart! Try me and know my thoughts! And see if there be any wicked way in me, and lead me in the way everlasting!

Read Galatians 6:7-10+

Do not be deceived; God is not mocked, for whatever a man sows, that he will also reap. For he who sows to his own flesh will from the flesh reap corruption; but he who sows to the Spirit will from the Spirit reap eternal life. And let us not grow weary in well-doing, for in due season we shall reap, if we do not lose heart. So then, as we have opportunity, let us do good to all men, and especially to those who are of the household of faith.

+ Scripture verses asked to be read by God the Father.

 

7 de mayo de 2021
Una vez más, yo (Maureen) veo una Gran Llama que he llegado a conocer como el Corazón de Dios Padre. Dice: "Cada persona debe ser responsable de su propio bienestar físico comiendo adecuadamente, haciendo ejercicio, en general, cuidándose a sí mismo. Lo mismo ocurre con el bienestar espiritual de cada alma. Necesita una dieta de oración, sazonado con sacrificio. Si el alma descuida esta dieta, se aleja cada vez más de Mí, la Fuente de todo bien ".

"En estos días, hay mucho desprecio por la espiritualidad que cada alma necesita cuidar. El alma se muere de hambre por el alimento de la oración y el sacrificio. Esta enfermedad del alma recibe poca atención cuanto más se muere de hambre. Pronto el alma está lejos distante de obedecer Mis Mandamientos o de agradarme ".

"Hablo de esta manera hoy, para despertar corazones en cuanto a su viaje espiritual. Es solo a través de elecciones de libre albedrío que el alma puede volverse y permanecer espiritualmente saludable. En este llamado al bienestar espiritual, reconozca que el alma que no está espiritualmente saludable es susceptible a las enfermedades al igual que un cuerpo enfermo. Estas enfermedades son cualquier cosa que desaliente la oración y los sacrificios diarios. El alma debe orar para identificar y reconocer estas influencias negativas. Si ora con un deseo sincero de iluminación, ayudaré al alma en la iluminación ".

"Siempre estoy del lado del bienestar de cada alma. Ora por Mi guía. Nunca estás solo en una batalla espiritual".

Lea el Salmo 139: 23-24 +

Examíname, oh Dios, y conoce mi corazón. Pruébame y conoce mis pensamientos! Y mira si hay en mí camino de perversidad, y guíame por el camino eterno.

Lea Gálatas 6: 7-10 +

Que no te engañen; No se burlan de Dios, porque todo lo que el hombre siembra, eso también segará. Porque el que siembra para su propia carne, de la carne segará corrupción; pero el que siembra para el Espíritu, del Espíritu segará la vida eterna. Y no nos cansemos de hacer el bien, porque a su tiempo segaremos, si no desmayamos. Así que, según tengamos oportunidad, hagamos el bien a todos, y especialmente a los de la familia de la fe.

+ Los versículos de las Escrituras pidieron ser leídos por Dios el Padre.
RE: Latest messages are at Holy Love Ministries (www.holylove.org) and Ministerios del Amor Santo (www.amorsanto.com)