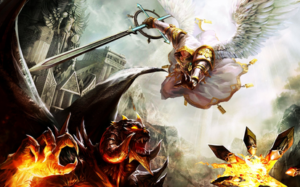 January 17, 2021
Once again, I (Maureen) see a Great Flame that I have come to know as the Heart of God the Father. He says: "Children, a few months ago, your nation* experienced a Presidential election** in which there was much nefarious action behind the scenes. That is over. But, the most important contest is still ongoing. It is the battle between good and evil in hearts. In this battle, your eternity is at stake. As long as you are breathing and able to choose, the battle is ongoing. To lose in this battle is to lose your soul for all eternity. The important point here is most people do not even know there is a battle going on. Therefore, the battle is already lost in such hearts. To those who choose to engage in this battle towards salvation, the victory is in their grasp if they choose My Mighty assistance."

"Satan's greatest weapon is to convince people that he does not exist so therefore, there is no war. I tell you that victory is always within anyone's reach. Each soul needs to choose to reach for it. This choice needs to be made in every present moment. Your victory needs to be a victory over sin. Regard sin as your enemy. Make war against sin. I will help you to find the Truth between good and evil. "

Read 1 Peter 1:22-23+

Having purified your souls by your obedience to the truth for a sincere love of the brethren, love one another earnestly from the heart. You have been born anew, not of perishable seed but of imperishable, through the living and abiding word of God;

+ Scripture verses asked to be read by God the Father.

 

17 de Enero del 2021
Nuevamente veo una gran llama que he llegado a reconocer como el Corazón de Dios Padre. Dice: "Hijos, hace unos meses, su Nación tuvo elecciones para presidente en las cuales hubo mucha acción perversa entre bastidores. Eso se acabó. Pero, la contienda más importante sigue en curso. Se trata de la batalla entre el bien y el mal en los corazones. En esta batalla está en riesgo su eternidad. Mientras respiren y puedan elegir, la batalla continúa. Perder esta batalla es perder su alma para toda la eternidad. Lo importante aquí es que la mayoría ni siquiera sabe que existe una batalla. Por lo tanto, la batalla ya está perdida en esos corazones. Para aquellos que eligen participar en esta batalla por la salvación, la victoria está al alcance si eligen Mi poderosa ayuda."

"El arma más grande de Satanás es convencer a las personas de que él no existe y que, por lo tanto, no hay ninguna guerra. Yo les digo, la victoria siempre está al alcance de todos. Cada alma necesita elegir alcanzarla. Esta elección se necesita hacer en cada momento presente. Su victoria necesita ser una victoria sobre el pecado. Consideren al pecado como su enemigo. Declárenle la guerra al pecado. Yo los ayudaré a encontrar la verdad entre el bien y el mal."

Lean 1ª Pedro 1:22-23




Por su obediencia a la verdad, ustedes se han purificado para amarse sinceramente como hermanos. Ámense constantemente los unos a los otros con un corazón puro, como quienes han sido engendrados de nuevo, no por un germen corruptible, sino incorruptible: la Palabra de Dios, viva y eterna.
RE: Latest messages are at Holy Love Ministries and Ministerios del Amor Santo