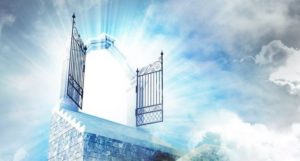 July 23, 2021
Once again, I (Maureen) see a Great Flame that I have come to know as the Heart of God the Father. He says: "There are many, many in the world today who believe they are going to Heaven because Jesus died for them. My Son, by His beautiful and perfect Passion and Death, opened the door to salvation. It is up to every soul to earn the right to walk through that door. For everyone, it is accomplished by obeying My Commandments.* This means to love Me above all else. In this love, the soul keeps holy the Sabbath. These Commandments are an obstacle to so many souls who otherwise would walk freely through the Gates of Paradise. Remember, all My Commandments were carved in stone.** There is no compromise to any of them."

"Sadly, too many believe they hold no responsibility towards their own salvation. Souls who live in the Truth, do not accept Satan's lie. In these Last Days, I speak here*** to uphold the Truth and to expose Satan's lies. Those who listen and believe My Commandments will obey out of love of the Truth. They will be snatched from the fire."

Read 2 Timothy 4:1-5+

I charge you in the presence of God and of Christ Jesus who is to judge the living and the dead, and by his appearing and his kingdom: preach the word, be urgent in season and out of season, convince, rebuke, and exhort, be unfailing in patience and in teaching. For the time is coming when people will not endure sound teaching, but having itching ears they will accumulate for themselves teachers to suit their own likings, and will turn away from listening to the truth and wander into myths. As for you, always be steady, endure suffering, do the work of an evangelist, fulfil your ministry.

+ Scripture verses asked to be read by God the Father.

 

23 de julio de 2021
Una vez más, yo (Maureen) veo una Gran Llama que he llegado a conocer como el Corazón de Dios Padre. Él dice: "Hay muchos, muchos en el mundo de hoy que creen que van al Cielo porque Jesús murió por ellos. Mi Hijo, por Su hermosa y perfecta Pasión y Muerte, abrió la puerta a la salvación. Depende de cada alma. ganar el derecho de entrar por esa puerta. Para todos, se logra obedeciendo Mis Mandamientos. * Esto significa amarme por encima de todo. En este amor, el alma santifica el sábado. Estos Mandamientos son un obstáculo para muchos almas que de otra manera caminarían libremente por las Puertas del Paraíso. Recuerden, todos Mis Mandamientos fueron tallados en piedra. ** No hay compromiso para ninguno de ellos ".

"Lamentablemente, muchos creen que no tienen ninguna responsabilidad hacia su propia salvación. Las almas que viven en la Verdad, no aceptan la mentira de Satanás. En estos Últimos Días, hablo aquí *** para defender la Verdad y exponer las mentiras de Satanás. los que escuchan y creen Mis mandamientos obedecerán por amor a la Verdad. Serán arrebatados del fuego ".

Leer 2 Timoteo 4: 1-5 +

Te mando en la presencia de Dios y de Cristo Jesús, que ha de juzgar a vivos y muertos, y por su aparición y su reino: predica la palabra, sé urgente a tiempo y fuera de tiempo, convence, reprende y exhorta, sé infalible en la paciencia y en la enseñanza. Porque se acerca el tiempo en que las personas no soportarán la sana enseñanza, pero, teniendo comezón en los oídos, acumularán para sí mismos maestros que se adapten a sus propios gustos, dejarán de escuchar la verdad y se desviarán hacia los mitos. En cuanto a ti, sé siempre firme, soporta el sufrimiento, haz el trabajo de evangelista, cumple tu ministerio.

+ Los versículos de las Escrituras pidieron ser leídos por Dios el Padre.
RE: Latest messages are at Holy Love Ministries (www.holylove.org) and Ministerios del Amor Santo (www.amorsanto.com)