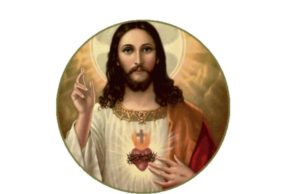 June 11, 2021
Jesus says: "I am your Jesus, born Incarnate."

"Today, I invite the heart of the world to seek the solace of My Most Sacred Heart. It is within My Heart you will find solace from the woes of the world – the untruths, the devotion to self-fulfillment, all the hidden agendas in the hearts of men. You will be able to discern the difference between good and evil and to choose only good. How safe and peaceful the world would be, if My Sacred Heart held dominion over all people and all nations."

"Today, I ask your prayers for all unbelievers. They must make their peace with Me before it is too late. Too late would be when they stand before Me in judgment."

"Through reverence to My Sacred Heart, I offer many blessings in a time when blessings are sorely needed. I will buoy up the spirit of those who suffer persecution. I will deepen My relationship with all those who desire to be closer to Me. I will be their solace when the world opposes them. Choose to love My Sacred Heart."

Read Psalm 5:11-12+

But let all who take refuge in you rejoice, let them ever sing for joy; and do defend them, that those who love your name may exult in you. For you bless the righteous, O LORD; you cover him with favor as with a shield.

+ Scripture verses asked to be read by Jesus.

 

11 de Junio del 2021
Solemnidad del Sagrado Corazón de Jesús

Jesús dice: "Yo soy tu Jesús, nacido Encarnado."

"Hoy invito al corazón del mundo a buscar el consuelo de Mi Sacratísimo Corazón. Dentro de Mi Corazón encontrarán consuelo en las aflicciones del mundo; las falsedades, el apego a la realización personal y todas las agendas ocultas que hay en el corazón de los hombres. Ustedes podrán distinguir la diferencia entre el bien y el mal y elegir solamente el bien. El mundo sería muy seguro y pacífico si Mi Sagrado Corazón tuviera dominio sobre toda la gente y todas las naciones."

"Hoy les pido sus oraciones por todos los no creyentes. Ellos deben reconciliarse Conmigo antes de que sea demasiado tarde. Demasiado tarde sería cuando estén en su juicio ante Mí."

"Por medio de la devoción a Mi Sagrado Corazón, Yo ofrezco abundantes bendiciones en un tiempo en que las bendiciones son muy necesarias. Animaré el espíritu de quienes sufren persecución. Profundizaré Mi relación con todos los que deseen estar más cerca de Mí. Yo seré su consuelo cuando el mundo se oponga a ellos. Elijan amar a Mi Sagrado Corazón."

Lean Salmo 5:12-13
Así se alegrarán los que en ti se refugian y siempre cantarán jubilosos; tú proteges a los que aman tu Nombre, y ellos se llenarán de gozo. Porque tú, Señor, bendices al justo, como un escudo lo cubre tu favor.
RE: Latest messages are at Holy Love Ministries (www.holylove.org) and Ministerios del Amor Santo (www.amorsanto.com)