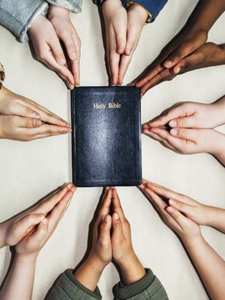 January 8, 2021
Once again, I (Maureen) see a Great Flame that I have come to know as the Heart of God the Father. He says: "Children, you are living in times when modern forms of travel and communication have made it quite easy for Satan to influence hearts and lives. Evil forms of entertainment, lifestyles and dress codes are no longer confined to certain locations, but are spread all over and accepted by the evil use of mass media."

"You, as My Remnant Faithful, must not be discouraged by the proliferation of evil all around you. Stand united in prayer and strong in righteousness and Truth as I have been instructing you. Be positive in a negative world. It is your prayers which help Me to change one heart at a time – hearts that you may never see or know about in this lifetime. Allow Me to use your prayers as I see fit and never submit to discouragement. While all around you is confusion and unpredictable turns of events, I am calling you, My children, to be the 'salt of the earth' – unscathed by the bad – even sinful decisions of others. It is through you I will strengthen the world population in the Truth."

"While Satan wants you to think your best efforts are not good enough, I tell you, to Me they are everything."

Read Titus 2:11-14+

For the grace of God has appeared for the salvation of all men, training us to renounce irreligion and worldly passions, and to live sober, upright, and godly lives in this world, awaiting our blessed hope, the appearing of the glory of our great God and Savior Jesus Christ, who gave himself for us to redeem us from all iniquity and to purify for himself a people of his own who are zealous for good deeds.

+ Scripture verses asked to be read by God the Father.

 

8 de Enero del 2021
Nuevamente veo una gran llama que he llegado a reconocer como el Corazón de Dios Padre. Dice: "Hijos, están viviendo en tiempos en los que las formas modernas de transporte y comunicación le han facilitado a Satanás ejercer influencia en los corazones y en las vidas. Las formas malignas de entretenimiento, los estilos de vida y los códigos de vestimenta ya no están limitados a ciertos lugares, sino se extienden por todas partes y son aceptados por el uso maligno de los medios de comunicación."

"Ustedes, como Mi Resto Fiel, no deben desanimarse por la proliferación del mal a su alrededor. Permanezcan unidos en oración y fuertes en la rectitud y en la verdad, tal como Yo los he estado instruyendo. Sean positivos en un mundo negativo. Son sus oraciones lo que me ayuda a Mí a cambiar un corazón a la vez; corazones que quizá nunca lleguen a ver o conocer en esta vida. Permítanme usar sus oraciones como Yo quiera, y nunca cedan al desaliento. Aunque hay confusión y giros impredecibles de los acontecimientos por todas partes, Yo los llamo, hijos Míos, a ser la sal de la tierra; a estar ilesos ante las decisiones malas, y hasta pecaminosas, de los demás. A través de ustedes, Yo fortaleceré a la población del mundo en la verdad."

"Aunque Satanás quiere que piensen que sus mejores esfuerzos no son lo suficientemente buenos, Yo les digo, para Mí lo son todo."

Lean Tito 2:11-14
Porque la gracia de Dios, que es fuente de salvación para todos los hombres, se ha manifestado. Ella nos enseña a rechazar la impiedad y los deseos mundanos, para vivir en la vida presente con sobriedad, justicia y piedad, mientras aguardamos la feliz esperanza y la Manifestación de la gloria de nuestro gran Dios y Salvador, Cristo Jesús. Él se entregó por nosotros, a fin de librarnos de toda iniquidad, purificarnos y crear para sí un Pueblo elegido y lleno de celo en la práctica del bien.
RE: Latest messages are at Holy Love Ministries and Ministerios del Amor Santo