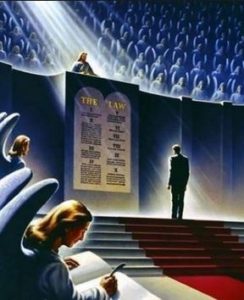 March 30, 2021
Once again, I (Maureen) see a Great Flame that I have come to know as the Heart of God the Father. He says: "The sum total of all your days upon earth will be judged upon the depth of love in your heart as you lived out each day, I have given you. Have you performed your daily duties with love for Me and your fellow man? Have you respected My Commandments out of love for Me and your neighbor? Have you practiced a virtuous life – an exemplary life – not to impress others, but out of love for Me? These are the questions each soul should ask himself in any examination of conscience. This is the groundwork of a soul intent on reaching Heaven. This is the foundation of living in My Divine Will."Read 1 John 2:9-10+
He who says he is in the light and hates his brother is in the darkness still. He who loves his brother abides in the light, and in it there is no cause for stumbling.+ Scripture verses asked to be read by God the Father.

 

30 de Marzo del 2021
Nuevamente veo una gran llama que he llegado a reconocer como el Corazón de Dios Padre. Dice: "La suma total de todos sus días en la tierra será evaluada según la profundidad del amor en sus corazones mientras vivieron cada día que Yo les he dado. ¿Han realizado sus deberes diarios con amor por Mí y su prójimo? ¿Han respetado Mis mandamientos por amor a Mí y a su prójimo? ¿Han practicado una vida virtuosa –una vida ejemplar– por amor a Mí y no para impresionar a los demás? Estas son las preguntas que cada alma debe hacerse en todo examen de conciencia. Este es el fundamento de un alma que intenta alcanzar el Cielo. Este es el cimiento de vivir en Mi Divina Voluntad."Lean 1ª Juan 2:9-10
El que dice que está en la luz y no ama a su hermano, está todavía en las tinieblas. El que ama a su hermano permanece en la luz y nada lo hace tropezar.
RE: Latest messages are at Holy Love Ministries (www.holylove.org) and Ministerios del Amor Santo (www.amorsanto.com)