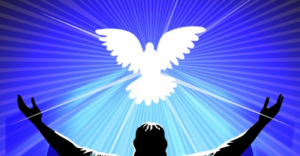 January 2, 2021 Once again, I (Maureen) see a Great Flame that I have come to know as the Heart of God the Father. He says: "Children, be encouraged as the New Year unfolds before you. Think of all the present moments that lie ahead, which you can return to Me as a gift well-lived in Holy Love. These present moments are the tools I use to shape the future of the world. These days, as politics must be discerned in the Church and in the world, souls need to come closer to Me in discerning good from evil. Satan uses many disguises. His most effective disguise is when he comes clothed in goodness. He promotes his will for souls by presenting his plan as good for the soul and/or the world in general. An example of this is abortion."

"So, I tell you, keep your conscience clear by sifting your thoughts, words and deeds through Holy Love. When you contemplate an action – thought, word or deed – use the standard of Holy Love as your calculator of decision."

Read Galatians 5:13-15+

For you were called to freedom, brethren; only do not use your freedom as an opportunity for the flesh, but through love be servants of one another. For the whole Law is fulfilled in one word, "You shall love your neighbor as yourself." But if you bite and devour one another take heed that you are not consumed by one another.

+ Scripture verses asked to be read by God the Father.

 

2 de Enero del 2021
Nuevamente veo una gran llama que he llegado a reconocer como el Corazón de Dios Padre. Dice: "Hijos, anímense conforme el nuevo año transcurre ante ustedes. Piensen en todos los momentos presentes que están por delante, mismos que ustedes pueden devolverme como un regalo bien vivido en Amor Santo. Estos momentos presentes son las herramientas que Yo utilizo para formar el futuro del mundo. En estos días, dado que la política tiene que discernirse en la Iglesia y en el mundo, las almas tienen que acercarse más a Mí para distinguir el bien del mal. Satanás utiliza muchos disfraces. El disfraz más efectivo para él es cuando llega revestido de bondad. Él promueve su voluntad para las almas presentando su plan como algo bueno para el alma y/o para el mundo en general. Un ejemplo de esto es el aborto."

"Así que, Yo les digo, mantengan su conciencia limpia purificando sus pensamientos, palabras y obras por medio del Amor Santo. Cuando contemplen una acción, pensamiento, palabra y obra, utilicen la norma del Amor Santo para determinar sus decisiones."

Lean Gálatas 5:13-15




Ustedes, hermanos, han sido llamados para vivir en libertad, pero procuren que esta libertad no sea un pretexto para satisfacer los deseos carnales, háganse más bien servidores los unos de los otros, por medio del amor. Porque toda la Ley está resumida plenamente en este precepto: Amarás a tu prójimo como a ti mismo. Pero si ustedes se están mordiendo y devorando mutuamente, tengan cuidado porque terminarán destruyéndose los unos a los otros.
RE: Latest messages are at Holy Love Ministries and Ministerios del Amor Santo