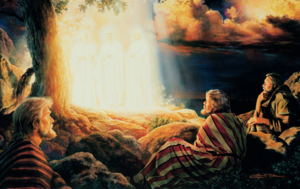 August 6, 2021
Feast of the Transfiguration
Once again, I (Maureen) see a Great Flame that I have come to know as the Heart of God the Father. He says: "Keep your focus on the power of your prayers. Do not become discouraged. I answer all prayers within the confines of My Will. Sometimes, My Will is not what you want. You must remember that I know what you need the most towards your own salvation. When you bring to Me your petitions, pray to recognize exactly what My Will is for you."

"My Will often does not match your free will. As an example, take the ravages of war. These things occur when mankind fails to choose Holy Love in his decisions. I cannot choose for you, but I give you everything you need to choose according to My Will."

Read Ephesians 2:8-10 +




For by grace you have been saved through faith; and this is not your own doing, it is the gift of God – not because of works, lest any man should boast. For we are his workmanship, created in Christ Jesus for good works, which God prepared beforehand, that we should walk in them.

+ Scripture verse(s) asked to be read by God the Father.

 

6 de agosto de 2021
Fiesta de la Transfiguración
Una vez más, yo (Maureen) veo una Gran Llama que he llegado a conocer como el Corazón de Dios Padre. Él dice: "Mantén tu enfoque en el poder de tus oraciones. No te desanimes. Contesto todas las oraciones dentro de los límites de Mi Voluntad. A veces, Mi Voluntad no es lo que tú quieres. Debes recordar que Yo sé lo que necesitas. más hacia tu propia salvación. Cuando me traigas tus peticiones, reza para reconocer exactamente cuál es Mi Voluntad para ti ".

"Mi Voluntad a menudo no coincide con tu libre albedrío. Como ejemplo, toma los estragos de la guerra. Estas cosas ocurren cuando la humanidad no elige al Amor Santo en sus decisiones. No puedo elegir por ti, pero te doy todo lo que necesitas para elegir. según Mi Voluntad ".

Lea Efesios 2: 8-10 +




Porque por gracia habéis sido salvados por la fe; y esto no es obra tuya, es don de Dios, no por obras, para que nadie se gloríe. Porque somos hechura suya, creados en Cristo Jesús para buenas obras, las cuales Dios preparó de antemano para que caminemos en ellas.

+ El (los) versículo (s) de las Escrituras que Dios el Padre pidió que fueran leídos.
RE: Latest messages are at Holy Love Ministries (www.holylove.org) and Ministerios del Amor Santo (www.amorsanto.com)
Download e-Book!                                                                            ¡Descargar E-Libro!