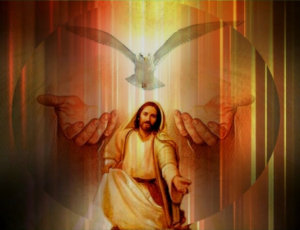 April 22, 2021
Once again, I (Maureen) see a Great Flame that I have come to know as the Heart of God the Father. He says: "These days, the mass media has undergone a campaign to convince your nation* that gun control is necessary. They headline shootings every day without regard for the real culprit which is what is in hearts. If people transformed their hearts in Holy Love, there would be no killings. There would be no need for guns. These times are more evil than any in the history of the human race. Truth is under attack. Salvation is under attack. The checks and balances established in your government are under attack. The Truth is, those in power are motivated to dismantle the safety of those who live in the Truth and bring them under the power of untruth. That is what gun control is about. If a person cannot defend himself, he falls under the power of those who can."

"In your hearts do not make more of the headlines than there is. Keep your hearts in the safety of Holy Love, which bears only the fruits of loving Me above all else and neighbor as self. The safety of your heart and soul is more important than all else."

Read 1 John 3:14+

We know that we have passed out of death into life, because we love the brethren. He who does not love remains in death.

+ Scripture verses asked to be read by God the Father.

 

22 de Abril del 2021
Nuevamente veo una gran llama que he llegado a reconocer como el Corazón de Dios Padre. Dice: "En estos días, los medios de comunicación han hecho una campaña para convencer a su Nación de que es necesario el control de armas. A diario publican titulares de tiroteos sin considerar al verdadero culpable, que es lo que hay en los corazones. Si las personas transformaran sus corazones en Amor Santo, no habría asesinatos. No habría necesidad de armas. Estos tiempos son más malignos que ningún otro en la historia de la raza humana. La verdad está bajo ataque. La salvación está bajo ataque. Los controles y equilibrios establecidos en su gobierno están bajo ataque. Lo cierto es que quienes están en el poder están interesados en disolver la seguridad de los que viven en la verdad y en ponerlos bajo el poder de la falsedad. De eso se trata el control de armas. Si una persona no puede defenderse, cae bajo el poder de los que sí pueden."

"En sus corazones, no hagan de los titulares más de lo que son. Conserven sus corazones en la seguridad del Amor Santo, el cual solamente da como fruto el amarme a Mí sobre todas las cosas y al prójimo como a sí mismos. La seguridad de su corazón y alma es más importante que todo lo demás."

Lean 1ª Juan 3:14




Nosotros sabemos que hemos pasado de la muerte a la Vida, porque amamos a nuestros hermanos. El que no ama permanece en la muerte.
RE: Latest messages are at Holy Love Ministries (www.holylove.org) and Ministerios del Amor Santo (www.amorsanto.com)