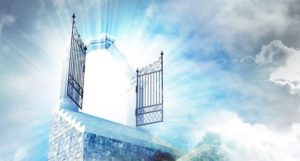 June 8, 2020 Once again, I (Maureen) see a Great Flame that I have come to know as the Heart of God the Father. He says: "Children, let the treasure you seek be Heaven. No other goal is satisfactory or fulfilling. If you follow this guideline, everything will fall into place and you will be at peace. So many seek causes to fight for. While this may be justified it cannot fill the void left by not making Heaven your be-all, end-all. Often these causes are blown out of proportion compared to the cause of loving Me above all else."

"In the midst of some of these causes is the need to forgive. When My Son hung on the Cross, He begged Me to forgive His persecutors. Of course, I forgave the repentant hearts. If you seek Heaven first and foremost, you will not allow your hearts to be carried off in angry issues. Instead you will try to resolve these issues through forgiveness."

Read Luke 17:3-4+

Take heed to yourselves; if your brother sins, rebuke him, and if he repents, forgive him; and if he sins against you seven times in the day, and turns to you seven times, and says, 'I repent,' you must forgive him."

Read Luke 23:33-34+

And when they came to the place which is called The Skull, there they crucified him, and the criminals, one on the right and one on the left. And Jesus said, "Father, forgive them; for they know not what they do." And they cast lots to divide his garments.

+ Scripture verses asked to be read by God the Father.

 

8 de Junio del 2020 Nuevamente veo una gran llama que he llegado a reconocer como el Corazón de Dios Padre. Dice: "Hijos, que el Cielo sea el tesoro que ustedes buscan. Ninguna otra meta es satisfactoria o gratificante. Si siguen esta directriz, todo se acomodará y estarán en paz. Muchos buscan causas por las que luchar. Aunque esto puede estar justificado, no puede llenar el vacío que queda por no hacer del Cielo la razón de su existencia. A menudo, estas causas están desproporcionadas comparadas con la causa de amarme a Mí sobre todas las cosas."

"Entre algunas de estas causas está la necesidad de perdonar. Cuando Mi Hijo colgaba de la Cruz, me suplicó que perdonara a Sus perseguidores. Por supuesto, Yo perdoné a los corazones contritos. Si ustedes buscan el Cielo en primer lugar, no permitirán que sus corazones se consuman con problemas de ira. Por el contrario, tratarán de resolver estos problemas por medio del perdón."

Lean Lucas 17:3-4
Por lo tanto, ¡tengan cuidado! Si tu hermano peca, repréndelo, y si se arrepiente, perdónalo. Y si peca siete veces al día contra ti, y otras tantas vuelve a ti, diciendo: 'Me arrepiento', perdónalo.

Lucas 23:33-34
Cuando llegaron al lugar llamado 'del Cráneo', lo crucificaron junto con los malhechores, uno a su derecha y el otro a su izquierda. Jesús decía: 'Padre, perdónalos, porque no saben lo que hacen'. Después se repartieron sus vestiduras, sorteándolas entre ellos.
RE: Latest messages are at Holy Love Ministries and Ministerios del Amor Santo