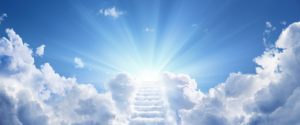 October 31, 2020 Once again, I (Maureen) see a Great Flame that I have come to know as the Heart of God the Father. He says: "Dear children, once again, I speak here* to direct any agenda you carry in your hearts towards eternal salvation. Do not spend your time on earth towards amassing great wealth, unless of course, you are sharing it with the unfortunate. Let your hearts be set upon eternity with Me in Paradise, for that is why each of you was created. Allow Me to share this life with you by directing the steps you take and leading you into My Paternal Heart of Divine Love."

"Be united in love. This would be your security. Do not support anyone who has an evil, hidden agenda enclosed in his heart. Be wise in Heavenly Wisdom as to the choices you make in this earthly life. At your judgment you will be held accountable for each one. Pray before you choose. The Holy Spirit will enlighten you as to what the human eye does not see. Do not be misled with false promises and lies. The Holy Spirit is the Spirit of Truth. Continue to serve Me in small ways. Then, when bigger choices need to be made, you will not be misled."

"I am with you always unless you turn away from Me through bad choices – careless choices. In which case I continually call you back to Me in Divine Love."

Read Ephesians 5:6-13+

Let no one deceive you with empty words, for it is because of these things that the wrath of God comes upon the sons of disobedience. Therefore do not associate with them, for once you were darkness, but now you are light in the Lord; walk as children of light (for the fruit of light is found in all that is good and right and true), and try to learn what is pleasing to the Lord. Take no part in the unfruitful works of darkness, but instead expose them. For it is a shame even to speak of the things that they do in secret; but when anything is exposed by the light it becomes visible, for anything that becomes visible is light.

+ Scripture verses asked to be read by God the Father.

 

31 de Octubre del 2020
Nuevamente veo una gran llama que he llegado a reconocer como el Corazón de Dios Padre. Dice: "Queridos hijos, una vez más hablo aquí para dirigir hacia la salvación eterna cualquier agenda que lleven en sus corazones. No pasen su tiempo en la tierra acumulando grandes riquezas, a menos que, por supuesto, estén compartiéndolas con los desafortunados. Que sus corazones se centren en la eternidad Conmigo en el Paraíso, porque cada uno de ustedes fue creado para eso. Permitan que Yo comparta esta vida con ustedes dirigiendo sus pasos y guiándolos a Mi Corazón Paternal de Amor Divino."

"Estén unidos en el amor. Esto sería su seguridad. No respalden a nadie que tenga una agenda malvada y oculta implantada en su corazón. Sean acertados con sabiduría celestial cuando tomen decisiones en esta vida terrenal. En su juicio, ustedes van a dar cuentas de cada decisión. Recen antes de tomar decisiones. El Espíritu Santo los iluminará para que vean lo que los ojos humanos no ven. Que no los engañen las falsas promesas y las mentiras. El Espíritu Santo es el Espíritu de la Verdad. Sigan sirviéndome de formas pequeñas. Entonces, cuando se necesiten tomar decisiones más grandes, no serán engañados."

"Yo siempre estoy con ustedes, a menos que ustedes se alejen de Mí por medio de las malas decisiones; decisiones descuidadas. En ese caso, Yo continuamente los llamo a que regresen a Mí en Amor Divino."

Lean Efesios 5:6-13
Que nadie los engañe con vanas razones, pues por eso viene la ira de Dios sobre los rebeldes. No tengan parte con ellos. Porque en otro tiempo fueron tinieblas; mas ahora son luz en el Señor. Vivan como hijos de la luz; pues el fruto de la luz consiste en toda bondad, justicia y verdad. Examinen qué es lo que agrada al Señor, y no participen en las obras infructuosas de las tinieblas, antes bien, denúncienlas. Sólo el mencionar las cosas que hacen ocultamente da vergüenza; pues, al ser denunciadas, salen a la luz.
RE: Latest messages are at Holy Love Ministries and Ministerios del Amor Santo