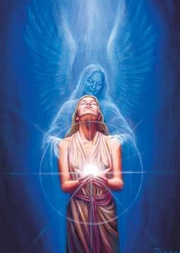 July 15, 2021 ·
Once again, I (Maureen) see a Great Flame that I have come to know as the Heart of God the Father. He says: "Children, your passport to eternal life is strict obedience to every nuance of all ten of My Commandments.* Do not look at these Commandments only as what you shall now do. See them as an explanation of what you should do in thought, word and deed. Therefore, keep your speech pure without slander or calumny or profaning My Name. Do not physically harm anyone in thought, word or deed. Keep your hearts free of all envy – be it another's goods or wife. Such envy leads to stealing or even murder."

"Listen to your guardian angel and allow him to inspire you towards sanctity. If you do all these things out of Holy Love, you will enjoy eternal life and always live in the Truth."

Read 1 John 3:18-24+

Little children, let us not love in word or speech but in deed and in truth. By this we shall know that we are of the truth, and reassure our hearts before him whenever our hearts condemn us; for God is greater than our hearts, and he knows everything. Beloved, if our hearts do not condemn us, we have confidence before God; and we receive from him whatever we ask, because we keep his commandments and do what pleases him. And this is his commandment, that we should believe in the name of his Son Jesus Christ and love one another, just as he has commanded us. All who keep his commandments abide in him, and he in them. And by this we know that he abides in us, by the Spirit which he has given us.

+ Scripture verses asked to be read by God the Father. (Please note: all Scripture given by Heaven refers to the Bible used by the visionary. Ignatius Press – Holy Bible – Revised Standard Version – Second Catholic Edition.)

* To READ the nuances & depth of the Ten Commandments given by God the Father from June 24 – July 3, 2021, please click here:

https://www.holylove.org/wp-content/uploads/2021/07/Holy-and-Divine-Love-Messages-God-the-Fathers-nuances-and-depth-for-each-of-the-Ten-Commandments-6-24-to-7-13-2021.pdf

 

15 de Julio del 2021
Nuevamente veo una gran llama que he llegado a reconocer como el Corazón de Dios Padre. Dice: "Hijos, su pasaporte a la vida eterna es la estricta obediencia a cada matiz de todos los Diez Mandamientos. No vean estos mandamientos solamente como algo que ahora deben hacer. Véanlos como una explicación de lo que deben hacer de pensamiento, palabra y obra. Por lo tanto, mantengan su lengua pura sin difamaciones o calumnias y sin profanar Mi Nombre. No dañen a nadie físicamente de pensamiento, palabra o acción. Mantengan sus corazones libres de toda codicia; sea codicia por los bienes o la mujer de otro. Semejante codicia lleva al robo o incluso al asesinato."

"Escuchen a su ángel de la guarda y dejen que él los inspire para la santificación. Si hacen todas estas cosas por Amor Santo, disfrutarán la vida eterna y siempre vivirán en la verdad."

Lean 1ª Juan 3:18-24




Hijitos míos, no amemos con la lengua y de palabra, sino con obras y de verdad. En esto conoceremos que somos de la verdad, y estaremos tranquilos delante de Dios aunque nuestra conciencia nos reproche algo, porque Dios es más grande que nuestra conciencia y conoce todas las cosas. Queridos míos, si nuestro corazón no nos hace ningún reproche, podemos acercarnos a Dios con plena confianza, y él nos concederá todo cuanto le pidamos, porque cumplimos sus mandamientos y hacemos lo que le agrada. Su mandamiento es este: que creamos en el nombre de su Hijo Jesucristo, y nos amemos los unos a los otros como él nos ordenó. El que cumple sus mandamientos permanece en Dios, y Dios permanece en él; y sabemos que él permanece en nosotros, por el Espíritu que nos ha dado.
RE: Latest messages are at Holy Love Ministries (www.holylove.org) and Ministerios del Amor Santo (www.amorsanto.com)