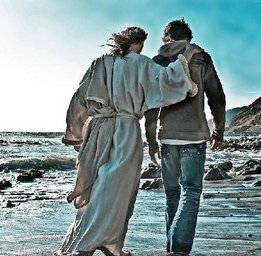 June 15, 2021
Once again, I (Maureen) see a Great Flame that I have come to know as the Heart of God the Father. He says: "Children, live each day as though I am by your side and in your heart. I will expose untruths to you and keep you safe from anything that would harm your faith. When the time comes for you to come to Me, I will review all your decisions. When you choose good over evil, these are the moments which lead to your salvation."

"Assist one another whenever possible and especially with your prayers. When you pray for each other, that is faith in action. Do not search out weaknesses in your neighbor in your heart. Search out the good points in each other. This type of positive thinking strengthens your relationship with Me."

"Most of all, trust in the strength of My Intercession in your lives. I do not fail the trust-filled prayer."

Read Psalm 5:11-12+
But let all who take refuge in you rejoice, let them ever sing for joy; and do defend them, that those who love your name may exult in you. For you bless the righteous, O LORD; you cover him with favor as with a shield.

+ Scripture verses asked to be read by God the Father.

 

15 de Junio del 2021
Nuevamente veo una gran llama que he llegado a reconocer como el Corazón de Dios Padre. Dice: "Hijos, vivan cada día como si Yo estuviera junto a ustedes y en sus corazones. Yo les revelaré las falsedades y los mantendré a salvo de cualquier cosa que dañe su fe. Cuando les llegue el tiempo de venir a Mí, Yo revisaré todas sus decisiones. Los momentos que los llevan a su salvación es cuando eligen el bien sobre el mal."

"Ayúdense mutuamente siempre que sea posible y, sobre todo, ayúdense con sus oraciones. Cuando rezan unos por otros, eso es la fe en acción. No busquen con el corazón las debilidades de su prójimo. Busquen las cosas buenas en los demás. Este tipo de pensamiento positivo fortalece su relación Conmigo."

"Más que nada, confíen en la fuerza de Mi intervención en sus vidas. Yo no defraudo la oración llena de confianza."

Lean Salmo 5:12-13
Así se alegrarán los que en ti se refugian y siempre cantarán jubilosos; tú proteges a los que aman tu Nombre, y ellos se llenarán de gozo. Porque tú, Señor, bendices al justo, como un escudo lo cubre tu favor.
RE: Latest messages are at Holy Love Ministries (www.holylove.org) and Ministerios del Amor Santo (www.amorsanto.com)