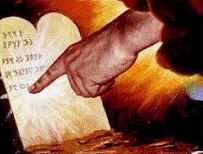 August 3, 2021
Once again, I (Maureen) see a Great Flame that I have come to know as the Heart of God the Father. He says: "Children, if you believed in no other Message except this one,* you would still be saved. I am telling you to live in Holy Love which is the Two Great Commandments – Love Me above all else and your neighbor as yourself. The heart of the world could be saved by this Premise. Catastrophic events could be avoided. I refer to events in nature, more disease and pandemics, economic crisis – even the grip of evil in the world of politics. These are just some of the ways that the benefit of the world is dependent upon My generosity."

"To embrace Holy Love is to embrace all of My Commandments.** These days, the First Premise – to Love Me above all else – is blasphemed all over the world in every present moment. Pray to communicate in a loving way with each other. This alone would bypass many a disaster. The world is on the brink of even greater upheaval. It is never too late to turn to Holy Love."

Read 1 Timothy 4:1-2, 7-8+

Now the Spirit expressly says that in later times some will depart from the faith by giving heed to deceitful spirits and doctrines of demons, through the pretensions of liars whose consciences are seared. Have nothing to do with godless and silly myths. Train yourself in godliness; for while bodily training is of some value, godliness is of value in every way, as it holds promise for the present life and also for the life to come.

+ Scripture verses asked to be read by God the Father. (Please note: all Scripture given by Heaven refers to the Bible used by the visionary. Ignatius Press – Holy Bible – Revised Standard Version – Second Catholic Edition.)

* The Messages of Holy and Divine Love at Maranatha Spring and Shrine given by Heaven to the American Visionary, Maureen Sweeney-Kyle.

** God the Father provided a full explanation of His Commandments to visionary Maureen Sweeney-Kyle beginning June 24th and ending on July 3rd, 2021. To read or listen to this valuable discourse please go to: http://www.holylove.org/ten/

 

3 de Agosto del 2021
Nuevamente veo una gran llama que he llegado a reconocer como el Corazón de Dios Padre. Dice: "Hijos, si no creyeran en ningún otro mensaje más que en este, aun así se salvarían. Yo les digo que vivan en Amor Santo, que es los dos grandes mandamientos: Amarme a Mí sobre todas las cosas y a su prójimo como a sí mismos. El corazón del mundo podría salvarse con esta premisa. Se evitarían acontecimientos catastróficos. Me refiero a acontecimientos en la naturaleza, más enfermedades y pandemias, crisis económicas e incluso el control del mal en el mundo de la política. Estas son tan solo algunas de las formas en que el bienestar del mundo depende de Mi generosidad."

"Abrazar el Amor Santo es abrazar todos Mis mandamientos. En la actualidad, se reniega de la primera premisa –amarme a Mí sobre todas las cosas– en todo el mundo, en cada momento presente. Recen pidiendo comunicarse de una manera amorosa entre ustedes. Tan solo esto evitaría muchos desastres. El mundo está al borde de un cataclismo mayor. Nunca es demasiado tarde para recurrir al Amor Santo."

Lean 1ª Timoteo 4:1-2, 7-8




El Espíritu afirma claramente que en los últimos tiempos habrá algunos que renegarán de su fe, para entregarse a espíritus seductores y doctrinas demoníacas, seducidos por gente mentirosa e hipócrita, cuya conciencia está marcada a fuego. …Rechaza esos mitos ridículos, esos cuentos de viejas, y ejercítate en la piedad. Los ejercicios físicos son de poca utilidad; la piedad, en cambio, es útil para todo, porque encierra una promesa de Vida para el presente y para el futuro.
RE: Latest messages are at Holy Love Ministries (www.holylove.org) and Ministerios del Amor Santo (www.amorsanto.com)