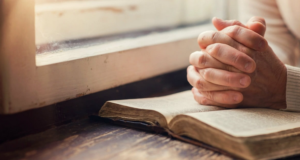 July 19, 2021
Once again, I (Maureen) see a Great Flame that I have come to know as the Heart of God the Father. He says: "Make a quiet space in your heart every day in which to meet Me in prayer. Within this space there is no room for phones, television and the like. It should be just you and Me. This is our space where we meet together. I will listen to your petitions. I will be able then to offer you advice. You will find peace if you surrender all your problems to My Paternal care. I am here to help you."

"When you do not trust Me, I am not free to show you My Will, which is always your solution. The resolve of your heart needs to be to trust in My Divine Will. This alone will diminish your problems. Those who trust only in themselves are always in lack of peace. Their hearts are never at rest. Their problems are magnified. It is My Will and your trust in Me that offers you peace of heart.

Read Psalm 5:11-12+

But let all who take refuge in you rejoice, let them ever sing for joy; and do defend them, that those who love your name may exult in you. For you bless the righteous, O LORD; you cover him with favor as with a shield.

+ Scripture verses asked to be read by God the Father.

 

19 de Julio del 2021
Nuevamente veo una gran llama que he llegado a reconocer como el Corazón de Dios Padre. Dice: "Cada día, hagan un espacio tranquilo en su corazón para reunirse Conmigo en oración. Dentro de ese espacio no hay lugar para teléfonos, televisión y cosas parecidas. Ese es nuestro espacio donde nos reunimos. Yo escucharé sus peticiones. Podré entonces ofrecerles consejo. Encontrarán paz si rinden todos sus problemas a Mi cuidado paternal. Yo esto ahí para ayudarlos."

"Cuando no confían en Mí, no tengo la libertad para mostrarles Mi Voluntad, la cual es siempre su solución. El propósito de sus corazones tiene que ser confiar en Mi Divina Voluntad. Esto disminuirá sus problemas. Quienes confían solamente en sí mismos carecen siempre de paz. Sus corazones nunca descansan. Sus problemas se magnifican. Mi Voluntad y su confianza en Mí es lo que les ofrece la paz de corazón."

Lean el Salmo 5:12-13




Así se alegrarán los que en ti se refugian y siempre cantarán jubilosos; tú proteges a los que aman tu Nombre, y ellos se llenarán de gozo. Porque tú, Señor, bendices al justo, como un escudo lo cubre tu favor.
RE: Latest messages are at Holy Love Ministries (www.holylove.org) and Ministerios del Amor Santo (www.amorsanto.com)