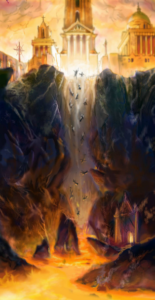 July 13, 2021
Once again, I (Maureen) see a Great Flame that I have come to know as the Heart of God the Father. He says: "In the world you are given many roadmaps to any desired destination. If you follow with great care the road maps you are given, you will not get lost, but safely reach your desired destination. In the spiritual journey on earth, you are also given a map – a way to travel – in order to reach Heaven. The problem these days is, generally speaking, many do not set their sights on Heaven. Many live careless lives, as though they will never be held accountable to Me for anything. Hardly any thought is given to afterlife. Many do not even believe in Heaven, Hell or Purgatory. Disbelief does not change reality."

"These Messages* are imparted to you to guide you along the path of salvation – to lead you into Heaven by avoiding sin. Once I sent My Son** to earth to accomplish this. These days, I come to speak to all people – all nations – to draw My children through the door of Truth and righteousness. Listen! Obey My Commandments."

Read Ephesians 5:15-17+

Look carefully then how you walk, not as unwise men but as wise, making the most of the time, because the days are evil. Therefore do not be foolish, but understand what the will of the Lord is.

+ Scripture verses asked to be read by God the Father.

 

13 de Julio del 2021
Nuevamente veo una gran llama que he llegado a reconocer como el Corazón de Dios Padre. Dice: "En el mundo se les dan muchos mapas de ruta para llegar a algún destino deseado. Si siguen con mucho cuidado los mapas que se les dan, no se perderán, sino que llegarán a salvo a su destino deseado. En el viaje espiritual en la tierra, ustedes también reciben un mapa –un camino que transitar– para llegar al Cielo. El problema en estos días es que, por lo general, muchos no tienen su mirada puesta en el Cielo. Muchos viven de manera negligente, como si nunca me fueran a rendir cuentas de nada. Casi no se piensa en la otra vida. Muchos ni siquiera creen en el Cielo, en el Infierno ni en el Purgatorio. La incredulidad no cambia la verdad."

"Estos Mensajes se les imparten para guiarlos por el sendero de la salvación; para guiarlos al Cielo evitando el pecado. Hace tiempo envié a Mi Hijo a la tierra para conseguir esto. En la actualidad, Yo vengo a hablarle a toda la gente y a todas las naciones para atraer a Mis hijos a través de la puerta de la verdad y la rectitud. ¡Escuchen! Obedezcan Mis mandamientos."

Lean Efesios 5:15-17 Cuiden mucho su conducta y no procedan como necios, sino como personas sensatas que saben aprovechar bien el momento presente, porque estos tiempos son malos. No sean irresponsables, sino traten de saber cuál es la voluntad del Señor.
RE: Latest messages are at Holy Love Ministries (www.holylove.org) and Ministerios del Amor Santo (www.amorsanto.com)