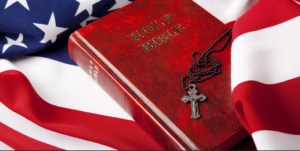 December 29, 2020
Once again, I (Maureen) see a Great Flame that I have come to know as the Heart of God the Father. "I am your Heavenly Father – Creator of every present moment. I have not given this country** a place of leadership in the world only to have it destroyed by outside agitators who seek to control the world. Have hope in your hearts that I will help this nation, if those in charge listen to Me. I am capable of all good. I am All Good – All Mercy – All Love. I invite those in charge – the leadership in this great nation – to turn to Me in prayer. I will help them realize who the enemy is. Many are in their midst. I will help them substantiate the action they must take to legally overcome the dishonest power-play of the enemy."

"Many people and nations count on the strength of this nation. This makes decisions concerning the current upheaval in leadership even more critical on a worldwide scale. Do not allow this opportunity to slip by. Make the effort to discount the credibility of the 'New World Order'. This is a second revolution in your nation's war for freedom."

Read Romans 8:28+

We know that in everything God works for good with those who love him, who are called according to his purpose.

+ Scripture verses asked to be read by God the Father.

 

29 de Diciembre del 2020
Nuevamente veo una gran llama que he llegado a reconocer como el Corazón de Dios Padre. Dice: "Yo soy su Padre Celestial, el Creador de cada momento presente. No le he dado a este País un lugar de liderazgo en el mundo solo para que lo destruyan activistas externos que buscan controlar el mundo. Tengan esperanza en sus corazones de que Yo voy a ayudar a esta Nación si las personas que están a cargo me escuchan. Yo soy capaz de todo bien. Yo soy todo Bien, todo Misericordia, todo Amor. Invito a las personas a cargo –a los líderes de esta gran nación– a que acudan a Mí en oración. Yo los ayudaré a darse cuenta de quién es el enemigo. Hay muchos en medio de ellos. Yo los ayudaré a establecer la acción que tienen que tomar para vencer legalmente el deshonesto juego de poder del enemigo."

"Muchas personas y naciones dependen de la fuerza de esta Nación. Esto hace que las decisiones sobre la actual conmoción en el liderazgo sean aún más críticas a nivel mundial. No permitan que esta oportunidad se les escape. Hagan el esfuerzo por eliminar la credibilidad del 'Nuevo Orden Mundial'. Esta es una segunda revolución en la guerra de su Nación por la libertad."

Lean Romanos 8:28




Sabemos, además, que Dios dispone todas las cosas para el bien de los que lo aman, de aquellos que él llamó según su designio.
RE: Latest messages are at Holy Love Ministries and Ministerios del Amor Santo