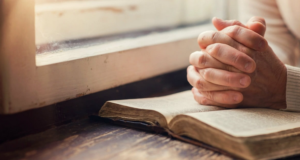 January 13, 2021
Once again, I (Maureen) see a Great Flame that I have come to know as the Heart of God the Father. He says: "Children, every moment given over to prayer from the heart is like a spiritual magnet which binds your heart to My Own. Do not be troubled by distractions, which are Satan's design to come between us. Every moment of every day is My gift to you and My invitation to come deeper into a spiritual relationship with Me."

"All the events around you in the political world you must just surrender to My Provision. I see how and why you are distracted. Most of the time these distractions are situations you should be praying for. I know what you need the most – often better than you do. A long list of intentions is superfluous and only tells Me you do not understand My Omnipotent Knowledge. Concede to Me the time you would spend pleading for all your intentions and just ask Me to help you to pray from the heart. I cannot refuse such a prayer in the present moment."

Read Galatians 6:7-10+

Do not be deceived; God is not mocked, for whatever a man sows, that he will also reap. For he who sows to his own flesh will from the flesh reap corruption; but he who sows to the Spirit will from the Spirit reap eternal life. And let us not grow weary in well-doing, for in due season we shall reap, if we do not lose heart. So then, as we have opportunity, let us do good to all men, and especially to those who are of the household of faith.

+ Scripture verses asked to be read by God the Father.

 

13 de Enero del 2021
Nuevamente veo una gran llama que he llegado a reconocer como el Corazón de Dios Padre. Dice: "Hijos, cada momento entregado a la oración que sale del corazón es como un imán espiritual que une sus corazones al Mío. Que las distracciones no los inquieten; Satanás las diseña para interponerse entre nosotros. Cada momento del día es un regalo que Yo les doy y es Mi invitación a una relación espiritual más profunda Conmigo."

"Todos los acontecimientos que hay a su alrededor en el mundo político solo tienen que rendirlos a Mi Provisión. Yo veo cómo y por qué se distraen. La mayoría de las veces, estas distracciones son situaciones por las que deben estar rezando. Yo sé lo que ustedes más necesitan, muchas veces lo sé mejor que ustedes mismos. Una larga lista de intenciones es innecesaria y solamente me dice que ustedes no comprenden Mi conocimiento omnipotente. Cédanme el tiempo que emplearían pidiendo por todas sus intenciones, y solo pídanme que los ayude a rezar con el corazón. Yo no puedo rechazar una oración así en el momento presente."

Lean Gálatas 6:7-10




No se engañen: nadie se burla de Dios. Se recoge lo que se siembra: el que siembra para satisfacer su carne, de la carne recogerá sólo la corrupción; y el que siembra según el Espíritu, del Espíritu recogerá la Vida eterna. No nos cansemos de hacer el bien, porque la cosecha llegará a su tiempo si no desfallecemos. Por lo tanto, mientras estamos a tiempo hagamos el bien a todos, pero especialmente a nuestros hermanos en la fe.
RE: Latest messages are at Holy Love Ministries and Ministerios del Amor Santo