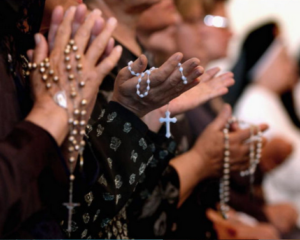 May 8, 2021
Once again, I (Maureen) see a Great Flame that I have come to know as the Heart of God the Father. He says: "Children, in your efforts to keep your spiritual 'household' secure, you must make prayer a priority throughout the day. Do this by inviting Me to be a part of every present moment when you awaken in the morning. You will feel the effects of grace working in your midst throughout the day. If all souls in the world today would do so, you would have no corruption, no political agendas, no dishonesty. The Truth would rule each heart.""As it is, there is only a minority of souls who live this way. The Truth has taken a beating. Trust in Me is also rare and mocked. Those who stand for the Truth are persecuted. My prayer warriors must uphold the Truth with courage. Do not back down in the face of objections. Early Christians had to live this way. Now you, in these last days, will be given the same fortitude and perseverance if you trust in Me."

Read 2 Timothy 1:13-14+

Follow the pattern of the sound words which you have heard from me, in the faith and love which are in Christ Jesus; guard the truth that has been entrusted to you by the Holy Spirit who dwells within us.

Read 2 Timothy 4:1-5+

I charge you in the presence of God and of Christ Jesus who is to judge the living and the dead, and by his appearing and his kingdom: preach the word, be urgent in season and out of season, convince, rebuke, and exhort, be unfailing in patience and in teaching. For the time is coming when people will not endure sound teaching, but having itching ears they will accumulate for themselves teachers to suit their own likings, and will turn away from listening to the truth and wander into myths. As for you, always be steady, endure suffering, do the work of an evangelist, fulfil your ministry.

+ Scripture verses asked to be read by God the Father.

 

8 de Mayo del 2021
Nuevamente veo una gran llama que he llegado a reconocer como el Corazón de Dios Padre. Dice: "Hijos, en sus esfuerzos por mantener segura su 'casa' espiritual, tienen que hacer de la oración una prioridad a lo largo del día. Hagan esto invitándome a ser parte de cada momento presente al levantarse cada mañana. Sentirán los efectos de la gracia actuando en su interior durante el día. Si hoy día todas las almas en el mundo hicieran esto, no tendrían corrupción, agendas políticas, ni deshonestidad. La verdad regiría cada corazón.""La realidad es que son una minoría las almas que viven de esta manera. La verdad ha sido golpeada. La confianza en Mí también es poco común y se burlan de ella. Quienes defienden la verdad son perseguidos. Mis guerreros de oración tienen que defender la verdad con valentía. No retrocedan ante las objeciones. Los primeros cristianos tuvieron que vivir de esta manera. Ahora ustedes, en estos últimos días, recibirán la misma fortaleza y perseverancia si confían en Mí."

Lean 2ª Timoteo 1:13-14




Toma como norma las saludables lecciones de fe y de amor a Cristo Jesús que has escuchado de mí. Conserva lo que se te ha confiado, con la ayuda del Espíritu Santo que habita en nosotros.

2ª Timoteo 4:1-5




Yo te conjuro delante de Dios y de Cristo Jesús, que ha de juzgar a los vivos y a los muertos, y en nombre de su Manifestación y de su Reino: proclama la Palabra de Dios, insiste con ocasión o sin ella, arguye, reprende, exhorta, con paciencia incansable y con afán de enseñar. Porque llegará el tiempo en que los hombres no soportarán más la sana doctrina; por el contrario, llevados por sus inclinaciones, se procurarán una multitud de maestros que les halaguen los oídos, y se apartarán de la verdad para escuchar cosas fantasiosas. Tú, en cambio, vigila atentamente, soporta todas las pruebas, realiza tu tarea como predicador del Evangelio, cumple a la perfección tu ministerio.
RE: Latest messages are at Holy Love Ministries (www.holylove.org) and Ministerios del Amor Santo (www.amorsanto.com)