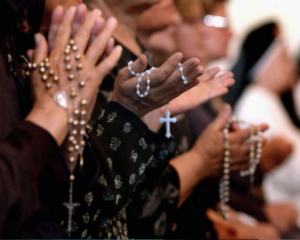 January 24, 2020 Public

Once again, I (Maureen) see a Great Flame that I have come to know as the Heart of God the Father. He says: "These days, there are two sets of moral standards. One set of standards seeks to keep My Commandments and to please Me in every way possible. The other polar opposite form of moral standards seeks to please self and man. My Remnant chooses the morals which My Son came to earth to promote. His whole public image was one of encouraging mankind of their obligation towards obeying My Commandments, which is the embrace of Holy Love."

"Today, the majority of the world's population chooses the errant set of morals. They live to please themselves and the others who are stepping-stones to their selfish ambitions. My Will is like a dirty word to such as these. Free will has become its own false god."

"So, you see, My Remnant – though small – has a huge task ahead of them. I am dependent upon their prayers and sacrifices to oppose the evils of the day and to expose the evils of the present moment. Every phase of life – every purpose of life is under attack. You have only to listen to the news on television or other forms of media to recognize this Truth. Pray, My Remnant, for the strength to promote the morals pleasing to Me. This is the way to put an end to violence, loose morals outside of marriage and every form of transgression against My Commandments which this new morality promotes. You, My Remnant, are My Voice and My strength in the world."

Read 2 Thessalonians 2:13-15+

But we are bound to give thanks to God always for you, brethren beloved by the Lord, because God chose you from the beginning to be saved, through sanctification by the Spirit and belief in the truth. To this he called you through our gospel, so that you may obtain the glory of our Lord Jesus Christ. So then, brethren, stand firm and hold to the traditions which you were taught by us, either by word of mouth or by letter.

+ Scripture verses asked to be read by God the Father.

 

Nuevamente veo una gran llama que he llegado a reconocer como el Corazón de Dios Padre. Dice: "En la actualidad, hay dos grupos de normas morales. Un grupo busca guardar Mis mandamientos y agradarme a Mí de todas las formas posibles. En el otro grupo de normas morales buscan agradarse a sí mismos y al hombre. Mi Resto elige la moral que Mi Hijo vino a promover en la tierra. Toda Su imagen pública fue para fomentar en la humanidad la obligación de obedecer Mis mandamientos, que es abrazar el Amor Santo."

"Hoy en día, la mayoría de la población mundial elige el grupo de moral equivocado. Viven para agradarse a sí mismos y a quienes les sirven de peldaño para sus ambiciones egoístas. Para estas personas, Mi Voluntad es como una mala palabra. La libre voluntad se ha vuelto su falso dios."

"Entonces, pueden ver que Mi Resto, aunque pequeño, tiene una enorme tarea por delante. Yo dependo de sus oraciones y sacrificios para combatir los males actuales y exponer los males del momento presente. Cada etapa de la vida –cada propósito en la vida– está bajo ataque. Basta escuchar las noticias en la televisión o en otros medios para reconocer esta verdad. Recen, Mi Resto, pidiendo la fuerza para promover la moral que me agrada a Mí. Esa es la forma de poner fin a la violencia, a la moral laxa fuera del matrimonio y a toda forma de transgresión contra Mis mandamientos que esta nueva moralidad promueve. Ustedes, Mi Resto, son Mi voz y Mi fuerza en el mundo."

Lean 2ª Tesalonicenses 2:13-15
Nosotros, por nuestra parte, siempre debemos dar gracias a Dios, a causa de ustedes, hermanos amados por el Señor. En efecto, Dios los eligió desde el principio para que alcanzaran la salvación mediante la acción santificadora del Espíritu y la fe en la verdad. Él los llamó, por medio de nuestro Evangelio, para que posean la gloria de nuestro Señor Jesucristo. Por lo tanto, hermanos, manténganse firmes y conserven fielmente las tradiciones que aprendieron de nosotros, sea oralmente o por carta.
RE: Latest messages are at Holy Love Ministries and Ministerios del Amor Santo