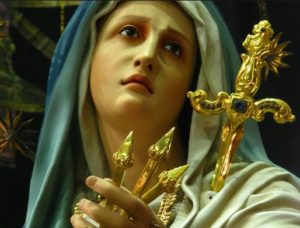 November 14, 2021
Once again, I (Maureen) see a Great Flame that I have come to know as the Heart of God the Father. He says: "Children, when you come to the property,* most hold in their hearts special intentions. Focus on My Love for you expressed in My Son's Passion and Death.** I will anoint you with what you need the most – love of My Divine Will for you. If you meditate on My Son's Passion, also include the Holy Mother's*** Passion which is described in Her Seven Sorrows.**** My Son's Passion was made more complete by merit of Her Sorrows.""Your needs are known to Me. Often, they are not what you perceive them to be, but far greater needs – such as the acceptance of My Divine Will. Since My Will is always perfect in its coming and in its passing through your heart, pray for the resolution to unite to My Will. In this way, you will find new goals and be resolved to let go of your own will in favor of My Divine Will. This is the way to be at peace. Mankind cannot conceive of any greater peace than that which I have just described to you. At this site is all you need to journey along this path of peace."

Read Ephesians 5:15-17+

Look carefully then how you walk, not as unwise men but as wise, making the most of the time, because the days are evil. Therefore do not be foolish, but understand what the will of the Lord is.

+ Scripture verses asked to be read by God the Father.

 

14 de Noviembre del 2021
Nuevamente veo una gran llama que he llegado a reconocer como el Corazón de Dios Padre. Dice: "Hijos, cuando vienen a la propiedad, la mayoría tiene intenciones especiales en el corazón. Concéntrense en Mi amor por ustedes expresado en la Pasión y Muerte de Mi Hijo. Yo los ungiré con lo que más necesitan: el amor por Mi Divina Voluntad para ustedes. Si meditan sobre la Pasión de Mi Hijo, también incluyan la pasión de la Santa Madre descrita en Sus Siete Dolores. La Pasión de Mi Hijo se hizo más completa gracias a Sus dolores.""Yo conozco sus necesidades. Con frecuencia, estas no son lo que ustedes perciben, sino que son necesidades mucho más grandes, tal como la aceptación de Mi Divina Voluntad. Puesto que Mi Voluntad es siempre perfecta en su llegada y en su paso por sus corazones, recen pidiendo la determinación de unirse a Mi Voluntad. Así es como encontrarán nuevas metas y estarán dispuestos a abandonar su voluntad en favor de Mi Divina Voluntad. Esta es la manera de estar en paz. La humanidad no puede concebir una paz más grande que la que acabo de describir. En esta propiedad está todo lo que necesitan para recorrer este sendero de paz."

Lean Efesios 5:15-17




Cuiden mucho su conducta y no procedan como necios, sino como personas sensatas que saben aprovechar bien el momento presente, porque estos tiempos son malos. No sean irresponsables, sino traten de saber cuál es la voluntad del Señor.
RE: Latest messages are at Holy Love Ministries (www.holylove.org) and Ministerios del Amor Santo (www.amorsanto.com)