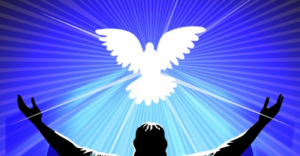 March 26, 2021
Once again, I (Maureen) see a Great Flame that I have come to know as the Heart of God the Father. He says: "A spiritual victory in any heart can only take place by a movement of free will. It is free will that governs the future of every soul and the future of the world. It behooves each soul to align his free will with the Divine Will of God. My Will for every soul is always perfect in each present moment. The soul must, through Holy Love, draw closer to Me to recognize My Divine Will – to love My Will – and to accept it."

"These days there is a spirit of independence which draws the soul away from My Divine Will. This spirit rebels against what I want and pursues what he wants on a human level. This reflects lack of humility and lack of spiritual depth. Pray for such as these, for they are affecting the heart of the world."

Read Ephesians 5:15-17 +




Look carefully then how you walk, not as unwise men but as wise, making the most of the time, because the days are evil. Therefore do not be foolish, but understand what the will of the Lord is.

+ Scripture verses asked to be read by God the Father.

 

26 de Marzo del 2021
Nuevamente veo una gran llama que he llegado a reconocer como el Corazón de Dios Padre. Dice: "Una victoria espiritual en cualquier corazón solo puede llevarse a cabo por un movimiento del libre albedrío. Lo que rige el futuro de cada alma y el futuro del mundo es el libre albedrío. A cada alma le corresponde alinear su libre voluntad con la Divina Voluntad de Dios. Mi Voluntad para cada alma es siempre perfecta en cada momento presente. A través del Amor Santo, el alma debe acercarse a Mí para reconocer Mi Divina Voluntad, para amarla y aceptarla."

"En la actualidad, hay un espíritu de independencia que aleja al alma de Mi Divina Voluntad. Este espíritu se rebela contra lo que Yo quiero, y busca lo que él quiere en un nivel humano. Esto refleja falta de humildad y poca profundidad espiritual. Recen por los que son así, porque están afectando el corazón del mundo."

Lean Efesios 5:15-17




Cuiden mucho su conducta y no procedan como necios, sino como personas sensatas que saben aprovechar bien el momento presente, porque estos tiempos son malos. No sean irresponsables, sino traten de saber cuál es la voluntad del Señor.
RE: Latest messages are at Holy Love Ministries (www.holylove.org) and Ministerios del Amor Santo (www.amorsanto.com)