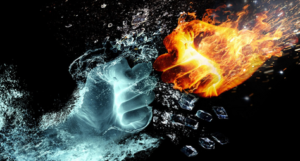 December 28, 2020
Once again, I (Maureen) see a Great Flame that I have come to know as the Heart of God the Father. He says: "I speak to you from My Paternal Heart as Father of all nations. I tell you, solemnly, nefarious agents are at work trying to destroy many nations which have, until now, stood independent from evil leadership. The United States was the prize that Satan was most eager to bring down and to control. You can see his handiwork in the fraudulent election which just took place.** If he succeeds in destroying free elections this time, you will be hard-pressed to ever have a fair election again."

"I urge those in place to frustrate Satan's efforts to do so. The people did not vote in the one*** poised to take over as leader of the 'free' world. I encourage whatever action that can be taken to act in the name of freedom. You will never have this chance again. Be courageous in the name of democracy."

Read 1 Peter 5:2-4+

Tend the flock of God that is your charge, not by constraint but willingly, not for shameful gain but eagerly, not as domineering over those in your charge but being examples to the flock. And when the chief Shepherd is manifested you will obtain the unfading crown of glory.

+ Scripture verses asked to be read by God the Father.

 

28 de Diciembre del 2020
Nuevamente veo una gran llama que he llegado a reconocer como el Corazón de Dios Padre. Dice: "Les hablo desde Mi Corazón Paternal como Padre de todas las naciones. En verdad les digo, hay agentes perversos en acción tratando de destruir muchas naciones que, hasta ahora, se han mantenido libres de liderazgos malignos. Los Estados Unidos de Norteamérica era el trofeo que Satanás estaba más ansioso por derribar y controlar. Pueden ver su obra en las elecciones fraudulentas que acaban de acontecer. Si él logra destruir esta vez las elecciones libres, no les resultará fácil volver a tener unas elecciones justas."

"A los que están en funciones, los apremio a que frustren los esfuerzos de Satanás para lograrlo. Las personas no votaron por la persona que está lista para asumir el cargo como líder del mundo 'libre'. Yo aliento cualquier acción que se pueda hacer para tomar medidas en nombre de la libertad. Nunca van a tener esta oportunidad de nuevo. Sean valientes en nombre de la democracia."

Lean 1ª Pedro 5:2-4




Apacienten el Rebaño de Dios, que les ha sido confiado; velen por él, no forzada, sino espontáneamente, como lo quiere Dios; no por un interés mezquino, sino con abnegación; no pretendiendo dominar a los que les han sido encomendados, sino siendo de corazón ejemplo para el Rebaño. Y cuando llegue el Jefe de los pastores, recibirán la corona imperecedera de gloria.
RE: Latest messages are at Holy Love Ministries and Ministerios del Amor Santo