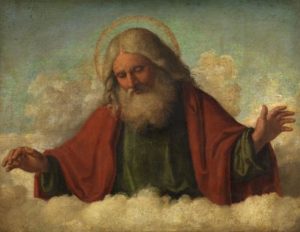 November 19, 2021
Once again, I (Maureen) see a Great Flame that I have come to know as the Heart of God the Father. He says: "Children, when you pray, abandon yourselves to Me. This one thing alone makes your prayers more powerful. Give to Me all your prayers, petitions and concerns. Remember, I am the Omnipotent God. Nothing is impossible to Me. The next step to a strong prayer is to allow Me the power to take charge of every situation in your lives. Believe that I can manipulate changes that would settle situations in your favor."

"I am always watchful of your welfare. I want you to be at peace. Peace comes to you through trust. Yes, trust in Me to enhance your efforts and not so much in your human efforts alone. This trust is the key to a fruitful prayer – a powerful prayer, but you must make the effort to surrender to trust."

Read Psalm 3:1-4+

Trust in God under Adversity

O Lord, how many are my foes! Many are rising against me; many are saying of me, there is no help for him in God. But thou, O Lord, art a shield about me, my glory, and the lifter of my head.

+ Scripture verses asked to be read by God the Father.

 

19 de noviembre de 2021
Una vez más, yo (Maureen) veo una Gran Llama que he llegado a conocer como el Corazón de Dios Padre. Él dice: "Hijos, cuando oren, entréguense a Mí. Solo esto hace que sus oraciones sean más poderosas. Entréguenme todas sus oraciones, peticiones e inquietudes. Recuerden, Yo soy el Dios Omnipotente. Nada es imposible para Mí. El siguiente paso para una oración fuerte es permitirme el poder de hacerme cargo de cada situación en sus vidas. Crean que puedo manipular los cambios que arreglarían las situaciones a su favor ".

"Siempre estoy atento a tu bienestar. Quiero que estés en paz. La paz te llega a través de la confianza. Sí, confía en Mí para mejorar tus esfuerzos y no tanto en tus esfuerzos humanos solamente. Esta confianza es la clave para un oración fructífera: una oración poderosa, pero debes hacer el esfuerzo de entregarte a la confianza ".

Lea el Salmo 3: 1-4 +

Confía en Dios ante la adversidad

¡Oh Señor, cuántos son mis enemigos! Muchos se levantan contra mí; muchos dicen de mí que no hay ayuda para él en Dios. Pero tú, Señor, eres un escudo sobre mí, mi gloria, y el que levanta mi cabeza.

+ Los versículos de las Escrituras pidieron ser leídos por Dios el Padre.
RE: Latest messages are at Holy Love Ministries (www.holylove.org) and Ministerios del Amor Santo (www.amorsanto.com)