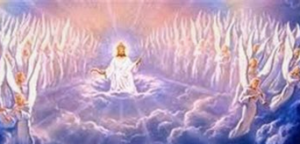 January 19, 2021
Once again, I (Maureen) see a Great Flame that I have come to know as the Heart of God the Father. He says: "When I speak of the Truth, I speak of a situation, a policy or a heart in and through which I am in Dominion and My Commandments obeyed. This is the unity I call you to. This is the victory I call each soul to embrace. The One World Order is not My Call to unity. Rather, it is the threshold of the Antichrist!"

"Your nation* is about to be transformed and weakened through various harmful policies. The checks and balances in the government that the forefathers set in place will no longer be there. This Mission** will be much more important to people, as it stands for the security of the Truth."

"Today, I call each and every soul to embrace victory in his heart. No law can be passed which destroys the privacy of the heart or the relationship between the soul and Me – your Eternal Father. Build your 'house' of personal holiness strong in the face of the destruction of the democratic soul of your nation. Democracy may die, but if you grasp the victory I call you to, you will have eternal life."

Read 2 Thessalonians 2:9-15+

The coming of the lawless one by the activity of Satan will be with all power and with pretended signs and wonders, and with all wicked deception for those who are to perish, because they refused to love the Truth and so be saved. Therefore, God sends upon them a strong delusion, to make them believe what is false, so that all may be condemned who did not believe the Truth but had pleasure in unrighteousness. But we are bound to give thanks to God always for you, brethren beloved by the Lord, because God chose you from the beginning to be saved, through sanctification by the Spirit and belief in the truth. To this he called you through our gospel, so that you may obtain the glory of our Lord Jesus Christ. So then, brethren, stand firm and hold to the traditions which you were taught by us, either by word of mouth or by letter.

+ Scripture verses asked to be read by God the Father.

 

19 de Enero del 2021
Nuevamente veo una gran llama que he llegado a reconocer como el Corazón de Dios Padre. Dice: "Cuando hablo de la verdad, hablo de una situación, una ley o de un corazón sobre los que Yo tengo dominio y los cuales obedecen Mis mandamientos. Esta es la unión a la que Yo los llamo. Esta es la victoria a la que invito a cada alma a abrazar. El Orden Mundial Único no es Mi llamado a la unión. En cambio, ¡es el umbral del anticristo!"

"Su Nación está a punto de transformarse y debilitarse mediante varias políticas dañinas. Los controles y balances en el gobierno que establecieron los antepasados ya no estarán ahí. Esta Misión será mucho más importante para las personas, pues defiende la seguridad de la verdad."

"El día de hoy llamo a todas y cada una de las almas a abrazar la victoria en su corazón. No se puede aprobar ninguna ley que destruya la privacidad del corazón o la relación entre el alma y Yo, su Padre Eterno. Construyan su casa de la santidad personal de manera sólida de cara a la destrucción del alma democrática de su Nación. La democracia puede morir, pero si ustedes abrazan la victoria a la que Yo los llamo, tendrán vida eterna."

Lean 2ª Tesalonicenses 2:9-15
La venida del Impío será provocada por la acción de Satanás y estará acompañada de toda clase de demostraciones de poder, de signos y falsos milagros, y de toda clase de engaños perversos, destinados a los que se pierden por no haber amado la verdad que los podía salvar. Por eso, Dios les envía un poder engañoso que les hace creer en la mentira, a fin de que sean condenados todos los que se negaron a creer en la verdad y se complacieron en el mal. Nosotros, por nuestra parte, siempre debemos dar gracias a Dios, a causa de ustedes, hermanos amados por el Señor. En efecto, Dios los eligió desde el principio para que alcanzaran la salvación mediante la acción santificadora del Espíritu y la fe en la verdad. El los llamó, por medio de nuestro Evangelio, para que posean la gloria de nuestro Señor Jesucristo. Por lo tanto, hermanos, manténganse firmes y conserven fielmente las tradiciones que aprendieron de nosotros, sea oralmente o por carta.
RE: Latest messages are at Holy Love Ministries and Ministerios del Amor Santo