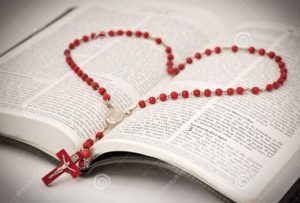 November 25, 2020 Once again, I (Maureen) see a Great Flame that I have come to know as the Heart of God the Father. He says: "Evil is riding the coattails of the COVID virus. You certainly must know that evil politics are at work in this country.* The virus is scaring people from attending religious services. Because of the virus, government has overstepped its rights and role in dictating the size of gatherings. It has even presumed to dictate how many could gather for Thanksgiving dinner. Social distancing, while prudent, has been the cause of disunity, the ruin of businesses – causing a weakening of the economy."

"Through all of this, I am calling for unity in prayer. No one can place limitations on the spirituality in your heart. Be aggressive against evil through prayer from your heart. Do not distance yourself from Me. I am Omnipresent. I am your hope in the face of renegade politics. I am your strength when you unite in Me. I am your peace when you believe in Me."

Read Psalm 5:4-12+

For you are not a God who delights in wickedness; evil may not sojourn with you.

The boastful may not stand before your eyes; you hate all evildoers.

You destroy those who speak lies; the LORD abhors bloodthirsty and deceitful men.

But I through the abundance of your merciful love will enter your house, I will worship toward your holy temple in the fear of you.

Lead me, O LORD, in your righteousness because of my enemies; make your way straight before me.

For there is no truth in their mouth; their heart is destruction, their throat is an open sepulchre, they flatter with their tongue.

Make them bear their guilt, O God; let them fall by their own counsels; because of their many transgressions cast them out, for they have rebelled against you.

But let all who take refuge in you rejoice, let them ever sing for joy; and do defend them, that those who love your name may exult in you.

For you bless the righteous, O LORD; you cover him with favor as with a shield.

+ Scripture verses asked to be read by God the Father.

 

25 de Noviembre del 2020
Nuevamente veo una gran llama que he llegado a reconocer como el Corazón de Dios Padre. Dice: "El mal está beneficiándose del COVID. Definitivamente tienen que saber que en este País hay políticas del mal en acción. El virus está haciendo que las personas tengan miedo de ir a los oficios religiosos. Debido al virus, el gobierno ha excedido sus derechos y funciones al decidir el tamaño de las reuniones. Incluso ha pretendido disponer cuántas personas pueden reunirse en la cena de Acción de Gracias. El distanciamiento social, aunque es prudente, ha sido causa de desunión y de la ruina en los negocios, causando que la economía se debilite.""Por todo esto, Yo los invito a unirse en oración. Nadie puede poner límites a la espiritualidad que tienen en sus corazones. Sean agresivos contra el mal a través de la oración que nace del corazón. No se alejen de Mí. Yo soy Omnipresente. Yo soy su esperanza ante la política radical. Yo soy su fuerza cuando se unen a Mí. Yo soy su paz cuando ustedes creen en Mí.

Lean el Salmo 5:4-12
Tú no eres un Dios que ama la maldad; ningún impío será tu huésped, ni los orgullosos podrán resistir delante de tu mirada. Tú detestas a los que hacen el mal y destruyes a los mentirosos. ¡Al hombre sanguinario y traicionero lo abomina el Señor! Pero yo, por tu inmensa bondad, llego hasta tu Casa, y me postro ante tu santo Templo con profundo temor. Guíame, Señor, por tu justicia, porque tengo muchos enemigos: ábreme un camino llano. En su boca no hay sinceridad, su corazón es perverso; su garganta es un sepulcro abierto, aunque adulan con la lengua. Castígalos, Señor, como culpables, que fracasen sus intrigas; expúlsalo por sus muchos crímenes, porque se han rebelado contra ti. Así se alegrarán los que en ti se refugian y siempre cantarán jubilosos; tú proteges a los que aman tu Nombre, y ellos se llenarán de gozo. Porque tú, Señor, bendices al justo, como un escudo lo cubre tu favor.
RE: Latest messages are at Holy Love Ministries and Ministerios del Amor Santo