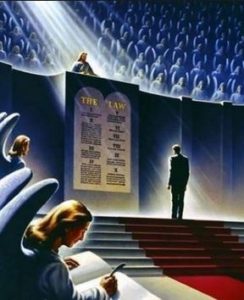 October 22, 2021
Once again, I (Maureen) see a Great Flame that I have come to know as the Heart of God the Father. He says: "No two souls are exactly alike or receive the same graces in the same situation. Every present moment is given in a different way to each soul. The individual soul makes his own distinct response to My Grace in every present moment. No two souls experience the same eternity as a reward or punishment either. My Son* is the solitary Judge of each soul. Only He sees into the past of each one's response to each present-moment grace or tri

al."

"Refrain from judging one another in thought, word or deed. You do not have the eternal knowledge or see souls as they stand before My Son in judgment. Evil exists in the world as a test of one's commitment to obedience to Me and love of My Commandments. My Judgment spans time and space to bring Truth to reality."

"I love each soul differently and completely whether they love Me or not. I see their weaknesses, temptations and strengths. I anticipate their response to My Grace. When you judge one another, you falsely act in My stead. You do not judge from omnipotent knowledge, but from human frailty."

Read 1 Timothy 5:24-25+

The sins of some men are conspicuous, pointing to judgment, but the sins of others appear later. So also good deeds are conspicuous; and even when they are not, they cannot remain hidden.

+ Scripture verses asked to be read by God the Father.

 

22 de Octubre del 2021
Nuevamente veo una gran llama que he llegado a reconocer como el Corazón de Dios Padre. Dice: "No hay dos almas que sean exactamente iguales ni que reciban las mismas gracias en la misma situación. Cada momento presente se da de una manera diferente para cada alma. El alma de cada persona da su respuesta particular a Mi gracia en cada momento presente. Tampoco hay dos almas que experimenten la misma eternidad como recompensa o castigo. Mi Hijo es el único juez de cada alma. Solo Él mira la respuesta de cada persona a la gracia o a la prueba de cada momento presente del pasado."

"Absténganse de juzgarse unos a otros de pensamiento, palabra o acción. Ustedes no tienen el conocimiento eterno ni ven a las almas cuando están ante Mi Hijo en el juicio. El mal existe en el mundo para probar el compromiso de cada persona con la obediencia a Mí y el amor a Mis mandamientos. Mi Juicio trasciende el tiempo y espacio para hacer realidad la verdad."

"Yo amo a cada alma de manera diferente y completa, ya sea que me amen o no. Yo veo sus debilidades, sus tentaciones y fortalezas. Yo anticipo su respuesta a Mi gracia. Cuando se juzgan unos a otros, actúan falsamente en Mi lugar. Ustedes no juzgan desde el conocimiento omnipotente, sino desde la fragilidad humana."

Lean 1ª Timoteo 5:24-25




Los pecados de algunas personas son tan notorios que no necesitan ser llevados a juicio; los de otras, en cambio, sólo se descubren después. De la misma manera, las buenas obras están a la vista, y las que no lo son, ya se pondrán de manifiesto.
RE: Latest messages are at Holy Love Ministries (www.holylove.org) and Ministerios del Amor Santo (www.amorsanto.com)