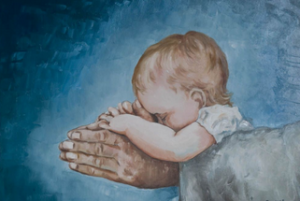 September 18, 2021
Once again, I (Maureen) see a Great Flame that I have come to know as the Heart of God the Father. He says: "Always be aware in your own heart of your relationship with Me. That way, all your thoughts, words and actions will focus on pleasing Me. These days, little thought is given to pleasing Me. Much of the population is focused on self-love and pleasing self. A barometer of this is the way marriage is no longer based upon My approval or acceptance, but is simply an agreement between people to live together."

"Return to the norms of days past, when human existence was regarded as a gift from Me. Life in the womb was protected by law. Christmas and Easter were first and foremost religious holidays – not commercial opportunities."

"I continue to call mankind back to the reality of My Dominion over him. I continue to call all people, all nations and all so-called religions under the protection of My Commandments.* Pray that all will listen to Me and take heed."

Read 1 John 3:22+

…and we receive from him whatever we ask, because we keep his commandments and do what pleases him.

+ Scripture verses asked to be read by God the Father.

 

18 de Septiembre del 2021
Nuevamente veo una gran llama que he llegado a reconocer como el Corazón de Dios Padre. Dice: "En sus corazones, tengan siempre en cuenta su relación Conmigo. De esa manera, todos sus pensamientos, palabras y acciones se centrarán en agradarme a Mí. En la actualidad, poco se piensa en agradarme a Mí. Gran parte de la población está enfocada en el amor propio y en agradarse a sí mismos. Un barómetro de esto es cómo el matrimonio ya no se basa en Mi aprobación o aceptación, sino simplemente es un acuerdo entre las personas para vivir juntos."

"Regresen a las normas del pasado, cuando la existencia humana se consideraba como un regalo de Mi parte. La ley protegía la vida en el vientre materno. La Navidad y la Pascua, ante todo, eran celebraciones religiosas, no oportunidades de negocio."

"Sigo llamando a la humanidad a que regrese a la realidad de Mi dominio sobre ella. Sigo invitando a toda la gente, a todas las naciones y a todos los que se hacen llamar religiosos, a que estén bajo la protección de Mis mandamientos. Recen pidiendo que todos me escuchen y presten atención."

Lean 1ª Juan 3:22




…él nos concederá todo cuanto le pidamos, porque cumplimos sus mandamientos y hacemos lo que le agrada.
RE: Latest messages are at Holy Love Ministries (www.holylove.org) and Ministerios del Amor Santo (www.amorsanto.com)