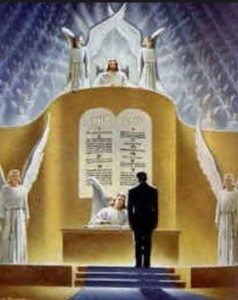 June 11, 2020 Once again, I (Maureen) see a Great Flame that I have come to know as the Heart of God the Father. He says: "Please understand, My children, that nothing occurs outside of My Will for you – My Permitting Will or My Ordaining Will. All events are woven into a tapestry of My Will. Your response to My Will results in your eternal life. The most exquisite tapestry of your life is woven of the thread of your obedience to My Commandments. Nothing you accomplish on earth is more important than this thread of your response to My Commandments. This response is what pulls together your final gift of your life which you present to My Son as you draw your last breath. It is in that moment you present to Him all your strengths and weaknesses in every virtue throughout your life, but especially in your last breath."

"Do not allow Satan to weaken your virtues amidst any difficulty."

Read 1 John 3:18-24+

Little children, let us not love in word or speech but in deed and in truth. By this we shall know that we are of the truth, and reassure our hearts before him whenever our hearts condemn us; for God is greater than our hearts, and he knows everything. Beloved, if our hearts do not condemn us, we have confidence before God; and we receive from him whatever we ask, because we keep his commandments and do what pleases him. And this is his commandment, that we should believe in the name of his Son Jesus Christ and love one another, just as he has commanded us. All who keep his commandments abide in him, and he in them. And by this we know that he abides in us, by the Spirit which he has given us.

+ Scripture verses asked to be read by God the Father.

 

11 de Junio del 2020
Nuevamente veo una gran llama que he llegado a reconocer como el Corazón de Dios Padre. Dice: "Les pido que comprendan, hijos Míos, que nada sucede fuera de Mi Voluntad para ustedes, ya sea Mi Voluntad Permisiva o Mi Voluntad Ordenadora. Todos los acontecimientos están entretejidos en el tapiz de Mi Voluntad. Su respuesta a Mi Voluntad determina su vida eterna. El tapiz más hermoso de su vida se entreteje con el hilo de su obediencia a Mis mandamientos. Nada de lo que logren en la tierra es más importante que este hilo de su respuesta a Mis mandamientos. Esta respuesta es lo que consolida el regalo final de sus vidas, el cual le presentan a Mi Hijo mientras dan su último aliento. En ese momento es cuando ustedes le presentan a Él todas las fortalezas y debilidades en cada virtud a lo largo de sus vidas, pero, especialmente, al dar su último aliento."

"No permitan que Satanás debilite sus virtudes cuando estén en alguna dificultad."

Lean 1ª Juan 3:18-24




Hijitos míos, no amemos con la lengua y de palabra, sino con obras y de verdad. En esto conoceremos que somos de la verdad, y estaremos tranquilos delante de Dios aunque nuestra conciencia nos reproche algo, porque Dios es más grande que nuestra conciencia y conoce todas las cosas. Queridos míos, si nuestro corazón no nos hace ningún reproche, podemos acercarnos a Dios con plena confianza, y él nos concederá todo cuanto le pidamos, porque cumplimos sus mandamientos y hacemos lo que le agrada. Su mandamiento es este: que creamos en el nombre de su Hijo Jesucristo, y nos amemos los unos a los otros como él nos ordenó. El que cumple sus mandamientos permanece en Dios, y Dios permanece en él; y sabemos que él permanece en nosotros, por el Espíritu que nos ha dado.
RE: Latest messages are at Holy Love Ministries and Ministerios del Amor Santo