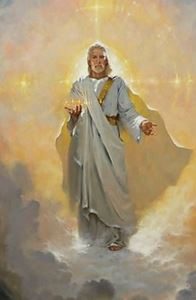 September 25, 2021
Once again, I (Maureen) see a Great Flame that I have come to know as the Heart of God the Father. He says: "Each moment in time brings the world closer to My Judgment. However, few live as if this was a possibility. Days pass into weeks and weeks into months. But earth continues in its mistakes, sliding farther from readiness in accountability to Me."

"I have offered the citizens of the world My Only Begotten Son.* To some, this has made a difference and conversions resulted. But to most, they have made free will their God. My Son will not return in the midst of fervent faith, but in the disquiet of disbelief."

"The Antichrist is preparing his entrance to popularity. He will mount his throne of error and deceit, bringing a multitude to their perdition. Now is the hour when I speak to grab the attention of the public and expose the evil plans of Antichrist. Pay attention! Do not belittle My efforts with your disbelief."

Read 2 Thessalonians 2:9-12+

The coming of the lawless one by the activity of Satan will be with all power and with pretended signs and wonders, and with all wicked deception for those who are to perish, because they refused to love the Truth and so be saved. Therefore, God sends upon them a strong delusion, to make them believe what is false, so that all may be condemned who did not believe the Truth but had pleasure in unrighteousness.

Read Colossians 2:8-10+

See to it that no one makes a prey of you by philosophy and empty deceit, according to human tradition, according to the elemental spirits of the universe, and not according to Christ. For in him the whole fulness of deity dwells bodily, and you have come to fulness of life in him, who is the head of all rule and authority.

+ Scripture verses asked to be read by God the Father.

 

25 de Septiembre del 2021
Nuevamente veo una gran llama que he llegado a reconocer como el Corazón de Dios Padre. Dice: "Cada momento en el tiempo acerca más al mundo a Mi juicio. Sin embargo, pocos viven como si esto fuera una posibilidad. Los días se convierten en semanas y las semanas en meses. Pero la tierra sigue en sus errores alejándose de estar preparada para rendirme cuentas a Mí."

"Le he ofrecido a los ciudadanos del mundo a Mi Hijo unigénito. Para algunos, esto ha hecho una diferencia y ha habido conversiones. Pero la mayoría ha hecho del libre albedrío su dios. Mi Hijo no regresará en medio de la fe ferviente, sino en el desasosiego de la incredulidad."

"El anticristo está preparando su entrada a la popularidad. Él subirá a su trono de errores y engaños llevando a una multitud a su perdición. Ahora es cuando Yo hablo para captar la atención del público y exponer los planes malignos del anticristo. ¡Presten atención! No subestimen Mis esfuerzos con su incredulidad."

Lean 2ª Tesalonicenses 2:9-12
La venida del Impío será provocada por la acción de Satanás y estará acompañada de toda clase de demostraciones de poder, de signos y falsos milagros, y de toda clase de engaños perversos, destinados a los que se pierden por no haber amado la verdad que los podía salvar. Por eso, Dios les envía un poder engañoso que les hace creer en la mentira, a fin de que sean condenados todos los que se negaron a creer en la verdad y se complacieron en el mal.

Colosenses 2:8-10
No se dejen esclavizar por nadie con la vacuidad de una engañosa filosofía, inspirada en tradiciones puramente humanas y en los elementos del mundo, y no en Cristo. Porque en él habita corporalmente toda la plenitud de la divinidad, y ustedes participan de esa plenitud de Cristo, que es la Cabeza de todo Principado y de toda Potestad.
RE: Latest messages are at Holy Love Ministries (www.holylove.org) and Ministerios del Amor Santo (www.amorsanto.com)