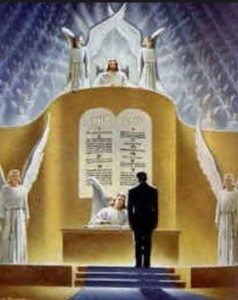 January 11, 2020
Once again, I (Maureen) see a Great Flame that I have come to know as the Heart of God the Father. He says: "Obedience to My Commandments* is proof of your love for Me."* The Ten Commandments


1. I am the Lord thy God, thou shalt not have strange gods before Me.




2. Thou shalt not take the name of the Lord thy God in vain.




3. Remember that thou keep holy the Sabbath day.




4. Honor thy father and thy mother.




5. Thou shalt not kill.




6. Thou shalt not commit adultery.




7. Thou shalt not steal.




8. Thou shalt not bear false witness against thy neighbor.




9. Thou shalt not covet thy neighbor's wife.




10. Thou shalt not covet thy neighbor's goods.December 31, 2012 (excerpt)

"I am your Jesus, born Incarnate."




"My Commandments of Love, though given to you in the New Testament, are, in Truth, the embodiment of the Ten Commandments given to Moses in days of old."




"To live in Holy Love is a way of thinking, a way of being, a way of a sound relationship with Me and with My Father."

 

Nuevamente veo una gran llama que he llegado a reconocer como el Corazón de Dios Padre. Dice: "La obediencia a Mis mandamientos es una prueba de su amor por Mí."
* Los diez Mandamientos1. Yo soy el Señor tu Dios, no tendrás dioses extraños delante de mí.


2. No tomarás el nombre del Señor tu Dios en vano.




3. Recuerda que santificas el día de reposo.




4. Honra a tu padre y a tu madre.




5. No matarás.




6. No cometerás adulterio.




7. No robarás.




8. No darás falso testimonio contra tu prójimo.




9. No codiciarás a la esposa de tu prójimo.




10. No codiciarás los bienes de tu prójimo.31 de diciembre de 2012 (extracto)




"Yo soy tu Jesús, nacido Encarnado".




"Mis Mandamientos de Amor, aunque se te dieron en el Nuevo Testamento, son, en verdad, la encarnación de los Diez Mandamientos dados a Moisés en los días antiguos".
RE: Latest messages are at Holy Love Ministries and Ministerios del Amor Santo