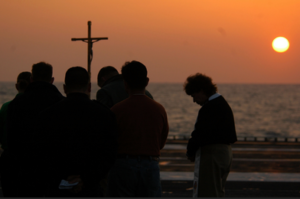 January 27, 2021
Once again, I (Maureen) see a Great Flame that I have come to know as the Heart of God the Father. He says: "Due to the overall agenda in the powers that be in your nation,* many lives will be lost, many souls will slip to their perdition and the abyss between your nation and My Heart will widen. The best prayer you can offer now is for a conviction of conscience in the hearts of your leaders and their return to the path of righteousness. I appreciate the fact that your government does not represent the soul of your nation any longer. However, the good are now suffering the effects of the evil in the hearts of others."

"The new policy of abortion on demand is a flagrant call for My Justice. It would be logical to expect many 'natural' disasters as well as man-made situations and problems to arise. Do not meet each present moment with fear, however. Trust in My present-moment Grace which is usually unexpected and relieves many problems."

"Allow the Holy Love in your heart to transcend any difficulty. I am Omnipresent. Do not fear."

Read Philippians 4:6+

Have no anxiety about anything, but in everything by prayer and supplication with thanksgiving let your requests be made known to God.

+ Scripture verses asked to be read by God the Father.

 

27 de Enero del 2021
Nuevamente veo una gran llama que he llegado a reconocer como el Corazón de Dios Padre. Dice: "Debido a la agenda global en los poderes que hay en su Nación, muchas vidas se perderán, muchas almas caerán en su perdición y el abismo entre su Nación y Mi Corazón se ensanchará. La mejor oración que pueden ofrecer ahora es pedir un convencimiento de conciencia en los corazones de sus líderes y que ellos regresen al sendero de la rectitud. Yo me doy cuenta del hecho de que su gobierno ya no representa el alma de la Nación. Sin embargo, los buenos ahora están sufriendo los efectos de la maldad que hay en los corazones de otros."

"La nueva ley de aborto a petición es una flagrante invocación a Mi Justicia. Sería lógico esperar muchos desastres 'naturales', al igual que situaciones hechas por el hombre y el surgimiento de problemas. Sin embargo, no enfrenten cada momento presente con miedo. Confíen en Mi gracia de cada instante, la cual, generalmente, es inesperada y arregla muchos problemas."

"Dejen que el Amor Santo en sus corazones trascienda cualquier dificultad. Yo soy Omnipresente. No tengan miedo."

Lean Filipenses 4:6
No se angustien por nada, y en cualquier circunstancia, recurran a la oración y a la súplica, acompañadas de acción de gracias, para presentar sus peticiones a Dios.
RE: Latest messages are at Holy Love Ministries and Ministerios del Amor Santo