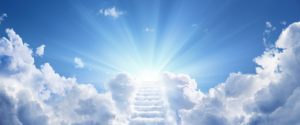 March 1, 2021
Once again, I (Maureen) see a Great Flame that I have come to know as the Heart of God the Father. He says: "Children, allow Me to command your every thought, word and deed by virtue of My Ten Commandments. Your lives will come together in Truth if you permit your hearts to obey Me. Only Truth will open the gateway to showers of grace. A liberal attitude which convolutes the Truth of following My Commandments has led many astray and t their perdition."

"You cannot enter the Kingdom of My Paradise unless you love Me above all else. This means pleasing Me is more important than ambition in the world as to physical appearance, status amongst mankind, money, any worldly possessions, worldly pleasures or entertainment, even status through knowledge. In short, to love Me above all else means to put pleasing Me first and foremost in your heart. Thois is the Commandment which opens the door to obedience to all the other Commandments. Flaws in this First Commandment obstruct allegiance to the Truth."

"Pure allegiance to this Truth can only be achieved through prayer and a movement of the free will. Surrender to My Divine Will is in your obedient acceptance of My Commandments."

Read 1 John 3:19-22+

By this we shall know that we are of the truth, and reassure our hearts before him whenever our hearts condemn us; for God is greater than our hearts, and he knows everything. Beloved, if our hearts do not condemn us, we have confidence before God; and we receive from him whatever we ask, because we keep his commandments and do what pleases him.

+ Scripture verses asked to be read by God the Father.

 

1º de Marzo del 2021
Nuevamente veo una gran llama que he llegado a reconocer como el Corazón de Dios Padre. Dice: "Hijos, permítanme tener el mando de cada uno de sus pensamientos, palabras y obras en virtud de Mis Diez Mandamientos. Sus vidas confluirán en la verdad si permiten que sus corazones me obedezcan. Solamente la verdad abrirá la puerta a la lluvia de gracias. Una actitud liberal que tergiversa la verdad de obedecer Mis mandamientos ha desviado a muchos y los ha llevado a su perdición."

"Ustedes no pueden entrar al reino de Mi Paraíso si no me aman a Mí sobre todas las cosas. Esto significa que agradarme a Mí es más importante que la ambición en el mundo por la apariencia física, el estatus entre la humanidad, el dinero, cualquier posesión mundana, placeres o entretenimientos terrenales, incluso que el estatus por medio del conocimiento. En resumen, amarme a Mí sobre todas las cosas significa agradarme a Mí antes que nada en sus corazones. Este es el mandamiento que abre la puerta de la obediencia a todos los demás mandamientos. Las fallas en este primer mandamiento obstruyen la lealtad a la verdad."

"La lealtad pura a esta verdad solamente se puede lograr a través de la oración y de un movimiento del libre albedrío. La rendición a Mi Divina Voluntad radica en su obediente aceptación de Mis mandamientos."

Lean 1ª Juan 3:19-22
En esto conoceremos que somos de la verdad, y estaremos tranquilos delante de Dios aunque nuestra conciencia nos reproche algo, porque Dios es más grande que nuestra conciencia y conoce todas las cosas. Queridos míos, si nuestro corazón no nos hace ningún reproche, podemos acercarnos a Dios con plena confianza, y él nos concederá todo cuanto le pidamos, porque cumplimos sus mandamientos y hacemos lo que le agrada.
RE: Latest messages are at Holy Love Ministries and Ministerios del Amor Santo