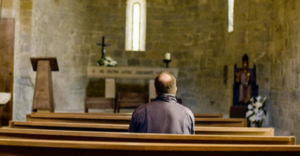 November 26, 2021
Once again, I (Maureen) see a Great Flame that I have come to know as the Heart of God the Father. He says: "Today, dear children, I invite you to patient sacrifice. This is the type of sacrifice that is most powerful in upsetting Satan's plans. Your patience is one with your acceptance of My Paternal Will for you. This is the surrender that is needed before My Son's* Return."

"Without your efforts in this regard, Satan is victorious in many small ways, as well as in great ways. This is how he takes over hearts, governments, and the economy without much notice. The wise soul can see the evil influence at its inception. The worldly person succumbs to the evil cover-up offered by Satan's cohorts – the media."

"If you are faithful to prayer, you will see the value of patient sacrifice without counting the cost. You will know which efforts and whom to support. Patient sacrifice bears the fruit of wisdom."

Read James 4:7-8+

Submit yourselves therefore to God. Resist the devil and he will flee from you. Draw near to God and he will draw near to you. Cleanse your hands, you sinners, and purify your hearts, you men of double mind.

+ Scripture verses asked to be read by God the Father.

 

26 de noviembre de 2021
Una vez más, yo (Maureen) veo una Gran Llama que he llegado a conocer como el Corazón de Dios Padre. Él dice: "Hoy, queridos hijos, los invito a un sacrificio paciente. Este es el tipo de sacrificio que es más poderoso para trastornar los planes de Satanás. Su paciencia es una con la aceptación de Mi Voluntad Paterna para ustedes. Esta es la entrega que es necesario antes del * Retorno de Mi Hijo ".

"Sin sus esfuerzos en este sentido, Satanás sale victorioso en muchas pequeñas formas, así como en grandes formas. Así es como se apodera de los corazones, los gobiernos y la economía sin mucho aviso. El alma sabia puede ver la influencia maligna en su La persona mundana sucumbe al maligno encubrimiento ofrecido por las cohortes de Satanás: los medios de comunicación ".

"Si eres fiel a la oración, verás el valor del sacrificio paciente sin contar el costo. Sabrás qué esfuerzos y a quién apoyar. El sacrificio paciente da el fruto de la sabiduría".

Leer Santiago 4: 7-8 +

Someteos, pues, a Dios. Resistid al diablo, y huirá de vosotros. Acércate a Dios y él se acercará a ti. Pecadores, limpiad vuestras manos y purificad vuestros corazones, hombres de doble ánimo.

+ Los versículos de las Escrituras pidieron ser leídos por Dios el Padre.
RE: Latest messages are at Holy Love Ministries (www.holylove.org) and Ministerios del Amor Santo (www.amorsanto.com)