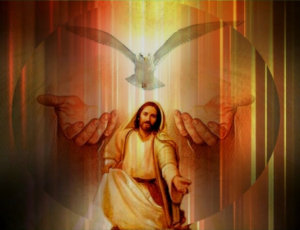 September 6, 2021
Once again, I (Maureen) see a Great Flame that I have come to know as the Heart of God the Father. He says: "These are the times foretold in which True Faith is at a premium. People no longer trust Me to answer their prayers. Many do not believe in Me, My Provision or My Protection. Such as these depend only on human efforts, human intelligencia and human resources. They protect their material goods, but do not pray for protection over their spiritual well-being. This invites the entrance of evil. This paves the way for the Antichrist."

"When people become most dependent upon their own human efforts, the Antichrist will step in as the 'human' solution to all earth's woes. Even now, he is trying to unite all people and all nations into a One World Government and Religion. This is an evil union. The wonders Antichrist will work are from powers below designed to mislead the human race."

"This is why, children, you must place your faith in the Truth. The Truth is My Omnipotence and My Commandments.* Pray for strong faith in Me through Mary, Protectress of your Faith."

Read 2 Thessalonians 2:9-12+

The coming of the lawless one by the activity of Satan will be with all power and with pretended signs and wonders, and with all wicked deception for those who are to perish, because they refused to love the Truth and so be saved. Therefore, God sends upon them a strong delusion, to make them believe what is false, so that all may be condemned who did not believe the Truth but had pleasure in unrighteousness.

+ Scripture verses asked to be read by God the Father.

 

6 de Septiembre del 2021
Nuevamente veo una gran llama que he llegado a reconocer como el Corazón de Dios Padre. Dice: "Estos tiempos son los profetizados en los que la verdadera fe es primordial. Las personas ya no confían en que Yo respondo a sus oraciones. Muchos no creen en Mí, ni en Mi provisión ni en Mi protección. Personas así dependen solamente de los esfuerzos del hombre, del intelecto y los recursos humanos. Ellos protegen sus bienes materiales, pero no rezan pidiendo protección sobre su bienestar espiritual. Esto incita la entrada del mal y prepara el camino para el anticristo."

"Cuando las personas se vuelvan más dependientes de sus esfuerzos humanos, el anticristo intervendrá como la solución 'humana' para los males de la tierra. Incluso ahora, él intenta unir a toda la gente y a todas las naciones en un gobierno y religión mundial únicos. Se trata de una unión maligna. Las maravillas que hará el anticristo provienen de los poderes del abismo diseñados para engañar a la raza humana."

"Por eso, hijos, tienen que poner su fe en la verdad. La verdad es Mi omnipotencia y Mis mandamientos. Recen pidiendo tener una fe fuerte en Mí a través de María, Protectora de la Fe."

Lean 2ª Tesalonicenses 2:9-12




La venida del Impío será provocada por la acción de Satanás y estará acompañada de toda clase de demostraciones de poder, de signos y falsos milagros, y de toda clase de engaños perversos, destinados a los que se pierden por no haber amado la verdad que los podía salvar. Por eso, Dios les envía un poder engañoso que les hace creer en la mentira, a fin de que sean condenados todos los que se negaron a creer en la verdad y se complacieron en el mal.
RE: Latest messages are at Holy Love Ministries (www.holylove.org) and Ministerios del Amor Santo (www.amorsanto.com)