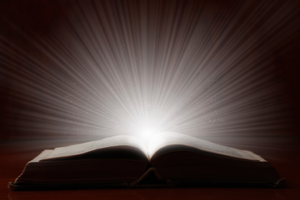 April 25, 2021
Once again, I (Maureen) see a Great Flame that I have come to know as the Heart of God the Father. He says: "My appeal continues to go out to each individual – to each heart. Perfect yourself in holiness. If each one would do so, dishonesty and corruption such as is present in politics these days would not exist. Souls would, with honesty, search their own hearts each night to find any sin or error they may have fallen into during the day. They would not in Truth be able to excuse themselves and allow these sins to go unchecked. They would want the best for others – not only themselves. This should be the by-law of everyone in public life and indeed, each soul."

"In the present moment, sanctify your efforts by living in the Truth. The Truth of your efforts to be personally holy is the most important recognition in your spiritual journey. Some do not care about personal holiness – only worldly gain. These are the ones slipping to their perdition. These are the unbelievers I ask you to pray and sacrifice for. These souls comprise the majority of the world population. Then there are the many who have embraced error as a religion."

"Now you understand why My Paternal Heart and the Heart of My Son* are mournful."

Read Philippians 2:14-15+




Do all things without grumbling or questioning, that you may be blameless and innocent, children of God without blemish in the midst of a crooked and perverse generation, among whom you shine as lights in the world,

Read Ephesians 4:11-16+
And his gifts were that some should be apostles, some prophets, some evangelists, some pastors and teachers, to equip the saints, for the work of ministry, for building up the body of Christ, until we all attain to the unity of the faith and of the knowledge of the Son of God, to mature manhood, to the measure of the stature of the fullness of Christ; so that we may no longer be children, tossed back and forth and carried about with every wind of doctrine, by the cunning of men, by their craftiness in deceitful wiles. Rather, speaking the truth in love, we are to grow up in every way into him who is the head, into Christ, from whom the whole body, joined and knit together by every joint with which it is supplied, when each part is working properly, makes bodily growth and upbuilds itself in love.
+ Scripture verses asked to be read by God the Father.

 

25 de Abril del 2021
Nuevamente veo una gran llama que he llegado a reconocer como el Corazón de Dios Padre. Dice: "Mi llamado sigue dirigiéndose a cada individuo; a cada corazón. Perfecciónense en la santidad. Si cada uno lo hiciera, no existiría la deshonestidad ni la corrupción, tal como están presentes actualmente en la política. Las almas examinarían con honestidad sus corazones todas las noches para encontrar algún pecado o error en el que hayan caído durante el día. Siendo honestas, no podrían justificarse y dejar que estos pecados pasen desapercibidos; querrían lo mejor para los demás, no nada más para sí mismas. Esta debería ser la regla de todos en la vida pública y, de hecho, de cada alma."

"En el momento presente, santifiquen sus esfuerzos viviendo en la verdad. La realidad de sus esfuerzos para ser santos es el reconocimiento más importante en su viaje espiritual. Hay algunos a quienes no les interesa la santidad personal; solamente la ganancia terrenal. Estos son los que caen en su perdición; son los no creyentes por los que les pido oración y sacrificios. Estas almas constituyen la mayoría de la población del mundo. Luego están los muchos que han abrazado el error como una religión."

"Ahora comprenden la razón por la cual Mi Corazón Paternal y el Corazón de Mi Hijo están desolados."

Lean Filipenses 2:14-15




Procedan en todo sin murmuraciones ni discusiones: así serán irreprochables y puros, hijos de Dios sin mancha, en medio de una generación extraviada y pervertida, dentro de la cual ustedes brillan como haces de luz en el mundo…

Efesios 4:11-16
Él comunicó a unos el don de ser apóstoles, a otros profetas, a otros predicadores del Evangelio, a otros pastores o maestros. Así organizó a los santos para la obra del ministerio, en orden a la edificación del Cuerpo de Cristo, hasta que todos lleguemos a la unidad de la fe y del conocimiento del Hijo de Dios, al estado de hombre perfecto y a la madurez que corresponde a la plenitud de Cristo. Así dejaremos de ser niños, sacudidos por las olas y arrastrados por el viento de cualquier doctrina, a merced de la malicia de los hombres y de su astucia para enseñar el error. Por el contrario, viviendo en la verdad y en el amor, crezcamos plenamente, unidos a Cristo. Él es la Cabeza, y de él, todo el Cuerpo recibe unidad y cohesión, gracias a los ligamentos que lo vivifican y a la actividad propia de cada uno de los miembros. Así el Cuerpo crece y se edifica en el amor.
RE: Latest messages are at Holy Love Ministries (www.holylove.org) and Ministerios del Amor Santo (www.amorsanto.com)