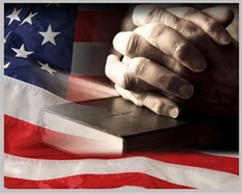 December 16, 2020 Once again, I (Maureen) see a Great Flame that I have come to know as the Heart of God the Father. He says: "Children, persevere in prayer and sacrifice. The soul of this nation* is at stake. If fraudulent election results are honored, the laws – the checks and balances of this country will be destroyed. Then you will have a system in place which upholds untruth. The entire election process will be forever altered. The 'president-elect'** is not who the people voted for. He has stated he will not honor the Constitution.*** He will destroy life right up to the moment of birth. We have as a President**** now one of Christian values. How many nations can claim that?"

"As your Creator, I must state these things for lives are at stake. Freedoms and the Truth are at stake. Souls are at stake. Do not expect Me to be uninvolved. I know where evil lies unexposed and will rise to power if given the chance. Pray that evil is dismantled before it is too late. Pray for courage in the hearts of righteous leaders."

Read 2 Thessalonians 2:9-15+

The coming of the lawless one by the activity of Satan will be with all power and with pretended signs and wonders, and with all wicked deception for those who are to perish, because they refused to love the Truth and so be saved. Therefore, God sends upon them a strong delusion, to make them believe what is false, so that all may be condemned who did not believe the Truth but had pleasure in unrighteousness. But we are bound to give thanks to God always for you, brethren beloved by the Lord, because God chose you from the beginning to be saved, through sanctification by the Spirit and belief in the truth. To this he called you through our gospel, so that you may obtain the glory of our Lord Jesus Christ. So then, brethren, stand firm and hold to the traditions which you were taught by us, either by word of mouth or by letter.

+ Scripture verses asked to be read by be read by God the Father.

 

16 de Diciembre del 2020
Nuevamente veo una gran llama que he llegado a reconocer como el Corazón de Dios Padre. Dice: "Hijos, perseveren en la oración y el sacrificio. El alma de esta Nación está en juego. Si se respetan los resultados electorales fraudulentos, se destruirán las leyes, es decir, los controles y equilibrios de este País. Entonces, tendrán un sistema en marcha que respalda la falsedad. Todo el proceso electoral será alterado para siempre. El 'presidente electo' no es por quien la gente votó. Él ha declarado que no respetará la Constitución. Va a destruir la vida hasta en el momento del nacimiento. Hoy tenemos como presidente a una persona con valores cristianos. ¿Cuántas naciones pueden afirmar esto?"

"Yo, como su Creador, tengo que decir estas cosas porque hay vidas en juego. Las libertades y la verdad están en juego. Las almas están en juego. Cómo esperan que no me involucre. Yo sé dónde está oculto el mal y, si le dan oportunidad, subirá al poder. Recen pidiendo que el mal sea desmantelado antes de que sea demasiado tarde. Recen pidiendo valentía en los corazones de los líderes rectos."

Lean 2ª Tesalonicenses 2:9-15




La venida del Impío será provocada por la acción de Satanás y estará acompañada de toda clase de demostraciones de poder, de signos y falsos milagros, y de toda clase de engaños perversos, destinados a los que se pierden por no haber amado la verdad que los podía salvar. Por eso, Dios les envía un poder engañoso que les hace creer en la mentira, a fin de que sean condenados todos los que se negaron a creer en la verdad y se complacieron en el mal. Nosotros, por nuestra parte, siempre debemos dar gracias a Dios, a causa de ustedes, hermanos amados por el Señor. En efecto, Dios los eligió desde el principio para que alcanzaran la salvación mediante la acción santificadora del Espíritu y la fe en la verdad. Él los llamó, por medio de nuestro Evangelio, para que posean la gloria de nuestro Señor Jesucristo. Por lo tanto, hermanos, manténganse firmes y conserven fielmente las tradiciones que aprendieron de nosotros, sea oralmente o por carta.
RE: Latest messages are at Holy Love Ministries and Ministerios del Amor Santo