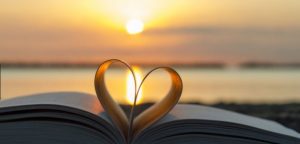 June 7, 2020 Once again, I (Maureen) see a Great Flame that I have come to know as the Heart of God the Father. He says: "Children, persevere during these times of strife amidst the pandemic, race riots and what is to come. Much has been orchestrated by Satan in order to discourage your President's* reelection. The media grabs a hold of chaos and multiplies it in hearts. They do not abandon any cause which negates the good this administration has accomplished. They are tearing at the moral fabric of this great nation."**

"You, my children, must pray for stronger faith, hope and love. If these virtues are strong in your hearts, you will be able to successfully dismiss media hype and cling to the Truth. Place these three – faith, hope and love – deep in the closets of your hearts. Display them in the midst of disbelief. Wear them proudly."

Read 1 Corinthians 13:4-7,13+

Love is patient and kind; love is not jealous or boastful; it is not arrogant or rude. Love does not insist on its own way; it is not irritable or resentful; it does not rejoice at wrong, but rejoices in the right. Love bears all things, believes all things, hopes all things, endures all things. . . So faith, hope, love abide, these three; but the greatest of these is love.

+ Scripture verses asked to be read by God the Father.

 

7 de Junio del 2020
Nuevamente veo una gran llama que he llegado a reconocer como el Corazón de Dios Padre. Dice: "Hijos, perseveren en estos tiempos de conflicto durante la pandemia, disturbios raciales y lo que viene. Mucho ha sido orquestado por Satanás a fin de frustrar la reelección de su Presidente. Los medios de comunicación se apoderan del caos y lo engrandecen en los corazones; no abandonan ninguna causa que niegue el bien que ha logrado esta administración. Están destrozando la estructura moral de esta gran Nación."

"Ustedes, hijos Míos, deben rezar pidiendo una fe, esperanza y amor más fuertes. Si estas virtudes están fuertes en sus corazones, lograrán ignorar la exageración de los medios y se aferrarán a la verdad. Pongan estas tres virtudes –la fe, esperanza y amor– en lo profundo de sus corazones. Muéstrenlas en medio de la incredulidad. Úsenlas con orgullo."

Lean 1ª Corintios 13:4-7, 13




El amor es paciente, es servicial; el amor no es envidioso, no hace alarde, no se envanece, no procede con bajeza, no busca su propio interés, no se irrita, no tienen en cuenta el mal recibido, no se alegra de la injusticia, sino que se regocija con la verdad. El amor todo lo disculpa, todo lo cree, todo lo espera, todo lo soporta. …En una palabra, ahora existen tres cosas: la fe, la esperanza y el amor, pero la más grande de todas es el amor.
RE: Latest messages are at Holy Love Ministries and Ministerios del Amor Santo