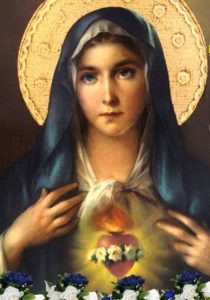 October 12, 2021
Once again, I (Maureen) see a Great Flame that I have come to know as the Heart of God the Father. He says: "Children, do not be distracted by the errors and rumors surrounding this pandemic. All of this is just Satan's way of confusing and distracting hearts and leading them away from trust. I am still in charge of every present moment. Therefore, do not allow your hearts to be casualties of Satan's propaganda. Trust always in My Will for you. Place this trust in the cocoon of the Holy Mother's Heart* where falsehoods cannot break in to destroy your peace."

"After all this passes and the pandemic is history, you will look back and see more clearly all of Satan's ploys and designs in this pandemic. The Ancient Enemy uses whatever is at hand to promote chaos."

Read Psalm 3:3-4+

But thou, O Lord, art a shield about me, my glory, and the lifter of my head. I cry aloud to the Lord, and he answers me from his holy mountain.

+ Scripture verses asked to be read by God the Father.

 

12 de Octubre del 2021
Nuevamente veo una gran llama que he llegado a reconocer como el Corazón de Dios Padre. Dice: "Hijos, no se distraigan con los errores y rumores que hay en torno a esta pandemia. Todo esto es la forma que tiene Satanás para confundir y distraer corazones y quitarles la confianza. Yo sigo a cargo de cada momento presente. Por lo tanto, no permitan que sus corazones sean víctimas de la propaganda de Satanás. Confíen siempre en Mi Voluntad para ustedes. Pongan esta confianza en lo recóndito del Corazón de la Santa Madre donde las falsedades no pueden penetrar para destruir su paz."

"Después de que todo esto pase y la pandemia sea historia, mirarán atrás y verán con más claridad todas las artimañas y planes de Satanás en esta pandemia. El viejo enemigo utiliza todo lo que está a la mano para promover el caos."

Lean Salmo 3:4-5




Pero tú eres mi escudo protector y mi gloria, tú mantienes erguida mi cabeza.
RE: Latest messages are at Holy Love Ministries (www.holylove.org) and Ministerios del Amor Santo (www.amorsanto.com)