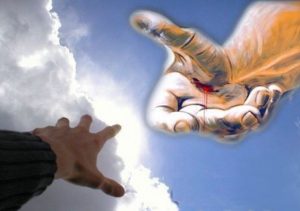 November 15, 2021
Once again, I (Maureen) see a Great Flame that I have come to know as the Heart of God the Father. He says: "Children, when you pray to Mary, Protectress of the Faith, the Holy Mother* intercedes for you, holding your faith in Her Most Immaculate Heart. Hers is a Heart that desires all good for you. When you visit this prayer site,** you can feel Her Grace all around you. Miracles abound for your edification as a means of securing your belief in this property and all the Messages.*** I impart to you these Messages by My Hand and through the Holy Mother and many saints. The Messages are the greatest gift I can offer you in this world, as they lead you along the sure path to your salvation."

"As you digest these Messages, make them a part of your spirituality, not just words on a paper. You will be held accountable for every grace I have offered you at your judgment. Did you respond positively, taking firm action as the Messages lead you to do? Or, did you treat these Words from Heaven as casual reading and just a 'ho-hum' part of your day?"

"Every grace I give a soul on earth is meant to lead him out of the quagmire of confusion so many are caught in on earth. Pray each morning for the grace to recognize My Hand of Grace in your life."

Read Colossians 2:8-10+

See to it that no one makes a prey of you by philosophy and empty deceit, according to human tradition, according to the elemental spirits of the universe, and not according to Christ. For in him the whole fulness of deity dwells bodily, and you have come to fulness of life in him, who is the head of all rule and authority.

+ Scripture verses asked to be read by God the Father.

 

15 de Noviembre del 2021
Nuevamente veo una gran llama que he llegado a reconocer como el Corazón de Dios Padre. Dice: "Hijos, cuando invocan a María, Protectora de la Fe, la Santa Madre intercede por ustedes, sosteniendo su fe en Su Inmaculadísimo Corazón. Su Corazón desea todo lo bueno para ustedes. Cuando visitan este lugar de oración, pueden sentir Su gracia por todas partes. Los milagros abundan para la propia edificación y como un medio para asegurar la fe que tienen en esta propiedad y en todos los Mensajes. Yo les imparto estos Mensajes a través de Mi Mano y por medio de la Santa Madre y de muchos santos. Estos Mensajes son el regalo más grande que puedo ofrecerles en este mundo, pues los guían por el sendero seguro a su salvación."

"Conforme asimilan estos Mensajes, háganlos parte de su espiritualidad; que no sean solamente palabras en un papel. En su juicio, ustedes rendirán cuentas de cada gracia que Yo les ofrecí. ¿Respondieron positivamente, tomando medidas firmes de acuerdo al consejo de los Mensajes? ¿O trataron estas palabras del Cielo como una lectura casual y simplemente como una parte tediosa del día?"

"Cada gracia que Yo le doy a un alma en la tierra tiene como propósito sacarla del pantano de confusión en el que tantos quedan atrapados en la tierra. Cada mañana, recen pidiendo la gracia de reconocer Mi mano de gracia en sus vidas."

Lean Colosenses 2:8-10
No se dejen esclavizar por nadie con la vacuidad de una engañosa filosofía, inspirada en tradiciones puramente humanas y en los elementos del mundo, y no en Cristo. Porque en él habita corporalmente toda la plenitud de la divinidad, y ustedes participan de esa plenitud de Cristo, que es la Cabeza de todo Principado y de toda Potestad.
RE: Latest messages are at Holy Love Ministries (www.holylove.org) and Ministerios del Amor Santo (www.amorsanto.com)