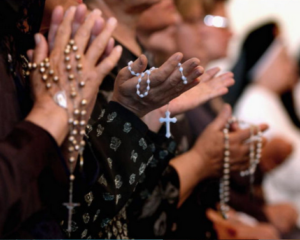 March 24, 2021
Once again, I (Maureen) see a Great Flame that I have come to know as the Heart of God the Father. He says: "Conversion of the heart of the world can only be accomplished through a spiritual victory. This is the petition you must pray for. Victories in the battlefield or through negotiations will prove insignificant unless there is a spiritual victory as the foundation. It is what is in hearts that governs the course of human events. Therefore, pray for a spiritual victory – a victory of good over evil – in all hearts as the foundation of world peace."

Read Psalm 16:4-11+

Those who choose another god multiply their sorrows; their libations of blood I will not pour out or take their names upon my lips. The LORD is my chosen portion and my cup; you hold my lot. The lines have fallen for me in pleasant places; yes, I have a goodly heritage. I bless the LORD who gives me counsel; in the night also my heart instructs me. I keep the LORD always before me; because he is at my right hand, I shall not be moved. Therefore my heart is glad, and my soul rejoices; my body also dwells secure. For you do not give me up to Sheol, or let your godly one see the Pit. You show me the path of life; in your presence there is fulness of joy, in your right hand are pleasures for evermore.

+ Scripture verses asked to be read by God the Father.

 

24 de Marzo del 2021
Nuevamente veo una gran llama que he llegado a reconocer como el Corazón de Dios Padre. Dice: "La conversión del corazón del mundo solo se puede lograr a través de una victoria espiritual. Tienen que rezar por esta intención. Las victorias en el campo de batalla o por medio de negociaciones resultarán insignificantes si no hay una victoria espiritual como cimiento. Lo que hay en los corazones es lo que gobierna el curso de los acontecimientos humanos. Por lo tanto, recen pidiendo una victoria espiritual; una victoria del bien sobre el mal en todos los corazones como cimiento de la paz del mundo."

Lean Salmo 16:4-11




Multiplican sus ídolos y corren tras ellos, pero yo no les ofreceré libaciones de sangre, ni mis labios pronunciarán sus nombres. El Señor es la parte de mi herencia y mi cáliz, ¡tú decides mi suerte! Me ha tocado un lugar de delicias, estoy contento con mi herencia. Bendeciré al Señor que me aconseja, ¡hasta de noche me instruye mi conciencia! Tengo siempre presente al Señor: él está a mi lado, nunca vacilaré. Por eso mi corazón se alegra, se regocijan mis entrañas y todo mi ser descansa seguro: porque no me entregarás a la Muerte ni dejarás que tu amigo vea el sepulcro. Me harás conocer el camino de la vida, saciándome de gozo en tu presencia, de felicidad eterna a tu derecha.
RE: Latest messages are at Holy Love Ministries (www.holylove.org) and Ministerios del Amor Santo (www.amorsanto.com)