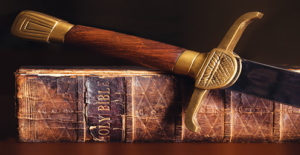 December 22, 2020
Once again, I (Maureen) see a Great Flame that I have come to know as the Heart of God the Father. He says: "Pray for a victory of Truth in this battle of control of your nation.* Satan is campaigning against the security of this country by convoluting facts about the coronavirus, distorting the truth of election results, and encouraging fear as to religious gatherings. These lies serve to weaken the spirit of your nation. In the political world, the father of lies has brought about betrayal of those who are close to your President,** undermining a strong effort to expose the fraud of the election."***

"I am your strength and your provision. Trust in these Truths. Be united in these Truths. Your unity is the most important weapon now. Be united in prayer. A great weapon of evil is fear. Fear conquers the Truth and divides. If you are wasting your time in fear, your prayers will be weakened. Pray with faith-filled hearts. Satan is doing everything he can to discourage this."

"These days, prayer is your strongest weapon in support of the Truth. Be valiant in your prayer effort."

Read 1 John 4:18+

There is no fear in love, but perfect love casts out fear. For fear has to do with punishment, and he who fears is not perfected in love.

Read Jude 17-23+

But you must remember, beloved, the predictions of the apostles of our Lord Jesus Christ; they said to you, "In the last time there will be scoffers, following their own ungodly passions." It is these who set up divisions, worldly people, devoid of the Spirit. But you, beloved, build yourselves up on your most holy faith; pray in the Holy Spirit; keep yourselves in the love of God; wait for the mercy of our Lord Jesus Christ unto eternal life. And convince some, who doubt; save some, by snatching them out of the fire; on some have mercy with fear, hating even the garment spotted by the flesh.

+ Scripture verses asked to be read by be read by God the Father.

 

22 de Diciembre del 2020
Nuevamente veo una gran llama que he llegado a reconocer como el Corazón de Dios Padre. Dice: "Recen pidiendo la victoria de la verdad en esta batalla por el control en su Nación. Satanás está haciendo campaña contra la seguridad de este País tergiversando los hechos sobre el coronavirus, distorsionando la verdad de los resultados electorales y fomentando el miedo a las reuniones religiosas. Estas mentiras sirven para debilitar el espíritu de su Nación. En el mundo político, el padre de las mentiras ha logrado la deslealtad de quienes están cerca de su Presidente (Donald J. Trump), debilitando el gran esfuerzo por exponer el fraude de las elecciones."

"Yo soy su fuerza y su provisión. Confíen en estas verdades. Estén unidos en ellas. Su unión es el arma más importante ahora. Estén unidos en oración. Una gran arma del mal es el miedo. El miedo conquista la verdad y divide. Si están perdiendo el tiempo teniendo miedo, sus oraciones se van a debilitar. Recen con corazones llenos de fe. Satanás está haciendo todo lo que puede para desalentar esto."

"En estos días, la oración es su arma más poderosa para apoyar la verdad. Sean valientes en su esfuerzo de oración."

Lean 1ª Juan 4:18
En el amor no hay lugar para el temor: al contrario, el amor perfecto elimina el temor, porque el temor supone un castigo, y el que teme no ha llegado a la plenitud del amor.

Judas 17-23
En cuanto a ustedes, queridos míos, acuérdense de lo que predijeron los Apóstoles de nuestro Señor Jesucristo. Ellos les decían: "En los últimos tiempos habrá gente que se burlará de todo y vivirá de acuerdo con sus pasiones impías". Estos son los que provocan divisiones, hombres sensuales que no poseen el Espíritu. Pero ustedes, queridos míos, edifíquense a sí mismos sobre el fundamento de su fe santísima, orando en el Espíritu Santo. Manténganse en el amor de Dios, esperando la misericordia de nuestro Señor Jesucristo para la Vida eterna. Traten de convencer a los que tienen dudas, y sálvenlos librándolos del fuego. En cuanto a los demás, tengan piedad de ellos, pero con cuidado, aborreciendo hasta la túnica contaminada por su cuerpo.
RE: Latest messages are at Holy Love Ministries and Ministerios del Amor Santo