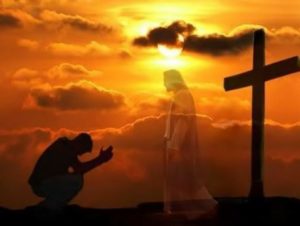 May 10, 2021
Once again, I (Maureen) see a Great Flame that I have come to know as the Heart of God the Father. He says: "To deny your responsibility towards earning your place in Heaven is to work in opposition towards your salvation. In each present moment, you make choices for or against your salvation. You must be children of the Light. Work towards exposing evil in order to be victorious over it."

"The choices you make in the present affect your future. If your hearts are set on pleasing Me, you will make worthy choices. If you desire to please only yourself, many graces will slip through your fingers. You cannot reach paradise by living only for yourself. Pray for the grace to put other peoples' needs ahead of your own. This unselfishness is a passport to Heaven."

Read 1 Corinthians 13:4-7,13+

Love is patient and kind; love is not jealous or boastful; it is not arrogant or rude. Love does not insist on its own way; it is not irritable or resentful; it does not rejoice at wrong, but rejoices in the right. Love bears all things, believes all things, hopes all things, endures all things. . . So faith, hope, love abide, these three; but the greatest of these is love.

+ Scripture verses asked to be read by God the Father.

 

10 de Mayo del 2021
Nuevamente veo una gran llama que he llegado a reconocer como el Corazón de Dios Padre. Dice: "Negar la responsabilidad que tienen de ganar su lugar en el Cielo es actuar en contra de su salvación. En cada momento presente ustedes toman decisiones a favor o en contra de su salvación. Tienen que ser hijos de la luz. Actúen en aras de exponer el mal para poder vencerlo."

"Las decisiones que toman en el presente afectan su futuro. Si sus corazones se centran en agradarme, tomarán decisiones meritorias. Si solo desean agradarse a sí mismos, desaprovecharán muchas gracias. No pueden llegar al Paraíso viviendo solamente para sí mismos. Recen pidiendo la gracia de anteponer las necesidades de los demás a las propias. Esta abnegación es un pasaporte al Cielo."

Lean 1ª Corintios 13:4-7,13




El amor es paciente, es servicial; el amor no es envidioso, no hace alarde, no se envanece, no procede con bajeza, no busca su propio interés, no se irrita, no tiene en cuenta el mal recibido, no se alegra de la injusticia, sino que se regocija con la verdad. El amor todo lo disculpa, todo lo cree, todo lo espera, todo lo soporta… En una palabra, ahora existen tres cosas: la fe, la esperanza y el amor, pero la más grande de todas es el amor.
RE: Latest messages are at Holy Love Ministries (www.holylove.org) and Ministerios del Amor Santo (www.amorsanto.com)