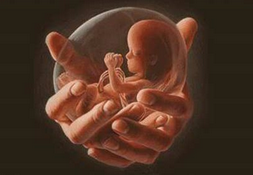 January 22, 2021
Once again, I (Maureen) see a Great Flame that I have come to know as the Heart of God the Father. He says: "The most precious of all your possessions, children, is your relationship with Me. No day should pass without your greater effort in coming closer to Me. I have told you that obedience to My Commandments pleases Me. Yes, it pleases Me. Your prayers and sacrifices please Me, as well. Keep Me as part of your day. I enjoy assisting you in many small and great ways."

"Focus your desire for success upon building your house of personal holiness stronger. That is, indeed the greatest victory of all, and it is within your grasp. These are evil times, as you know. Your prayers and sacrifices are like the sail on a ship that carries you over the sea of controversy."

"Pray for your nation** to repent of the sin of abortion for that is the load stone which is causing the government to sink. Take a lesson from the story of Jonah in the scripture reading today. I am willing, even now, after so many lives I created have been destroyed, to forgive, for My Mercy is perfect. Just as lives have been destroyed without repentance – so too, is your government being destroyed. Repent!"

Read Jonah 3:1-10+

Then the word of the Lord came to Jonah the second time, saying, "Arise, go to Nineveh, that great city, and proclaim to it the message that I tell you." So Jonah arose and went to Nineveh, according to the word of the Lord. Now Nineveh was an exceedingly great city, three days' journey in breadth. Jonah began to go into the city, going a day's journey. And he cried, "Yet forty days, and Nineveh shall be overthrown!" And the people of Nineveh believed God; they proclaimed a fast, and put on sackcloth, from the greatest of them to the least of them. Then tidings reached the king of Nineveh, and he arose from his throne, removed his robe, and covered himself with sackcloth, and sat in ashes. And he made proclamation and published through Nineveh, "By the decree of the king and his nobles: Let neither man nor beast, herd nor flock, taste anything; let them not feed, or drink water, but let man and beast be covered with sackcloth, and let them cry mightily to God; yea, let every one turn from his evil way and from the violence which is in his hands. Who knows, God may yet repent and turn from his fierce anger, so that we perish not?" When God saw what they did, how they turned from their evil way, God repented of the evil which he had said he would do to them; and he did not do it.

+ Scripture verses asked to be read by God the Father. (Please note: all Scripture given by Heaven refers to the Bible used by the visionary. Ignatius Press – Holy Bible – Revised Standard Version – Second Catholic Edition.)

* On Sunday, January 17, 2021, President Trump Declared January 22nd – "National Sanctity of Human Life Day" stating: "Every human life is a gift to the world. Whether born or unborn, young or old, healthy or sick, every person is made in the holy image of God, …The Almighty Creator gives unique talents, beautiful dreams, and a great purpose to every person. On National Sanctity of Human Life Day, we celebrate the wonder of human existence and renew our resolve to build a culture of life where every person of every age is protected, valued, and cherished.". See: https://www.lifesitenews.com/news/trump-again-proclaims-anniversary-of-roe-v-wade-jan-22-sanctity-of-life-day

** U.S.A.

 

22 de Enero del 2021
Día de la Santidad de la Vida Humana
Nuevamente veo una gran llama que he llegado a reconocer como el Corazón de Dios Padre. Dice: "Hijos, la más valiosa de todas sus posesiones es su relación Conmigo. No debe pasar ni un solo día sin que den su mayor esfuerzo para acercarse más a Mí. Yo les he dicho que me agrada la obediencia a Mis mandamientos. Sí, eso me agrada. Sus oraciones y sacrificios también me agradan. Dejen que Yo sea parte de sus días. Yo disfruto ayudarlos de muchas formas pequeñas y grandes."

"Centren sus ganas de triunfar en construir de forma más sólida su casa de la santidad personal. De hecho, esa es la victoria más grande de todas, y está a su alcance. Como saben, estos son tiempos malignos. Sus oraciones y sacrificios son como la vela de un barco que los lleva por el mar de la controversia."

"Recen pidiendo que su Nación se arrepienta del pecado del aborto, porque esa es la carga que está haciendo que el gobierno se hunda. Aprendan de la historia de Jonás en la lectura bíblica de hoy. Yo estoy dispuesto a perdonar, incluso ahora, luego de que tantas vidas que Yo he creado han sido destruidas, porque Mi misericordia es perfecta. Así como se han destruido vidas sin remordimiento alguno, así también se está destruyendo su gobierno. ¡Arrepiéntanse!"

Lean Jonás 3:1-10




La palabra del Señor fue dirigida por segunda vez a Jonás, en estos términos: "Parte ahora mismo para Nínive, la gran ciudad, y anúnciale el mensaje que yo te indicaré". Jonás partió para Nínive, conforme a la palabra del Señor. Nínive era una ciudad enormemente grande: se necesitaban tres días para recorrerla. Jonás comenzó a internarse en la ciudad y caminó durante todo un día, proclamando: "Dentro de cuarenta días, Nínive será destruida". Los ninivitas creyeron en Dios, decretaron un ayuno y se vistieron con ropa de penitencia, desde el más grande hasta el más pequeño. Cuando la noticia llegó al rey de Nínive, este se levantó de su trono, se quitó su vestidura real, se vistió con ropa de penitencia y se sentó sobre ceniza. Además, mandó proclamar en Nínive el siguiente anuncio: "Por decreto del rey y de sus funcionarios, ningún hombre ni animal, ni el ganado mayor ni el menor, deberán probar bocado: no pasten ni beban agua; vístanse con ropa de penitencia hombres y animales; clamen a Dios con todas sus fuerzas y conviértase cada uno de su mala conducta y de la violencia que hay en sus manos. Tal vez Dios se vuelva atrás y se arrepienta, y aplaque el ardor de su ira, de manera que perezcamos". Al ver todo lo que los ninivitas hacían para convertirse de su mala conducta, Dios se arrepintió de las amenazas que les había hecho y no las cumplió.
RE: Latest messages are at Holy Love Ministries and Ministerios del Amor Santo