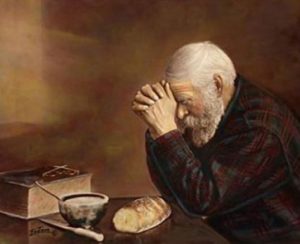 April 28, 2021
Once again, I (Maureen) see a Great Flame that I have come to know as the Heart of God the Father. He says: "Children, pray much for strong faith in My Will for you. Then I can send the people into your life that you need in every situation. You will, through faith, recognize the way I am leading you. My Call to you does not include fear or discouragement. These are from the enemy of your soul. Do not place your faith in anyone who is full of pride – self-importance. Have faith in those who know they are instruments of Me – your God."

"I treasure these moments when I can communicate with you and guide you. Hopefully, you do too. I communicated with Noah in such a way. He listened and obeyed, even though the people around him did not believe in his efforts and challenged his response to My Call. I am upholding this Mission* in a similar way. These Messages** draw many into the ark of these times – the United Hearts of Jesus and Mary."

Read Romans 2:6-8+




For he will render to every man according to his works: to those who by patience in well-doing seek for glory and honor and immortality, He will give eternal life; but for those who are factious and do not obey the truth, but obey wickedness, there will be wrath and fury.




+ Scripture verses asked to be read by God the Father.

 

28 de Abril del 2021
Nuevamente veo una gran llama que he llegado a reconocer como el Corazón de Dios Padre. Dice: "Hijos, recen mucho pidiendo una fuerte fe en Mi Voluntad para ustedes. Así Yo podré enviar a sus vidas a las personas que ustedes necesitan en cada situación. Reconocerán, por medio de la fe, la forma en que Yo los guío. Mi llamado a ustedes no incluye miedo ni desaliento. Eso proviene del enemigo de sus almas. No pongan su fe en nadie que esté lleno de soberbia; de engreimiento. Tengan fe en los que ustedes sepan que son instrumentos Míos; instrumentos de su Dios."

"Yo atesoro estos momentos en los que puedo comunicarme con ustedes y guiarlos. Espero que ustedes también. Yo me comunicaba con Noé de esta forma. Él escuchó y obedeció, aunque las personas a su alrededor no creían en sus esfuerzos y cuestionaban su respuesta a Mi llamado. Yo estoy defendiendo esta Misión de forma similar. Estos Mensajes atraen a muchos hacia el Arca de estos tiempos: los Corazones Unidos de Jesús y María."

Lean Romanos 2:6-8




…que retribuirá a cada uno según sus obras. El dará la Vida eterna a los que por su constancia en la práctica del bien, buscan la gloria, el honor y la inmortalidad. En cambio, castigará con la ira y la violencia a los rebeldes, a los que no se someten a la verdad y se dejan arrastrar por la injusticia.
RE: Latest messages are at Holy Love Ministries (www.holylove.org) and Ministerios del Amor Santo (www.amorsanto.com)