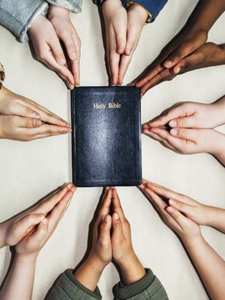 April 21, 2021
Once again, I (Maureen) see a Great Flame that I have come to know as the Heart of God the Father. He says: "I continue to speak here* as a means of reconciling mankind to My Will, My Commandments, My Omnipresence in their midst. These days man readily believes in human effort, however; believers in Me are now in the minority. I continue to ask for prayers for unbelievers. Pray that faith is restored in all hearts and recognized as the treasure that it is."

"Lack of faith has resulted in disunity amongst all people and all nations. While unity in righteousness has suffered, unity in evil has flourished. This evil unity has laid the foundation for many evil laws. Believers must be cautious, therefore, in what they obey and in what they accept as Truth. Untruth is presented as acceptable by mass media. The conscience of the world has consequently been convoluted."

"Believers must stand boldly for the Truths of Faith. Do not summarily accept any authority as a bearer of Truth. Use My Commandments as your Law of Truth in all matters. The Holy Mother** protects your faith and therefore your journey in Truth."

Read 2 Timothy 4:1-5+

I charge you in the presence of God and of Christ Jesus who is to judge the living and the dead, and by his appearing and his kingdom: preach the word, be urgent in season and out of season, convince, rebuke, and exhort, be unfailing in patience and in teaching. For the time is coming when people will not endure sound teaching, but having itching ears they will accumulate for themselves teachers to suit their own likings, and will turn away from listening to the truth and wander into myths. As for you, always be steady, endure suffering, do the work of an evangelist, fulfil your ministry.

+ Scripture verses asked to be read by God the Father.

 

21 de Abril del 2021
Nuevamente veo una gran llama que he llegado a reconocer como el Corazón de Dios Padre. Dice: "Sigo hablando en este lugar como un medio para reconciliar a la humanidad con Mi Voluntad, con Mis mandamientos, con Mi Omnipresencia en medio de ella. En estos tiempos, la humanidad fácilmente cree en el esfuerzo humano, sin embargo, los que creen en Mí son ahora la minoría. Yo sigo pidiendo oración por los no creyentes. Recen para que se restaure la fe en todos los corazones y se le reconozca como el tesoro que es."

"La falta de fe ha dado como resultado la desunión entre toda la gente y todas las naciones. Mientras que la unión en la rectitud se ha visto afectada, la unión en el mal ha florecido. Esta unión malvada ha sentado las bases para muchas leyes malignas. Por lo tanto, los creyentes tienen que ser cautelosos en lo que obedecen y en lo que aceptan como verdad. Los medios de comunicación presentan la falsedad como algo aceptable. En consecuencia, la conciencia del mundo se ha atrofiado."

"Los creyentes tienen que defender con valentía las verdades de la fe. No acepten de inmediato cualquier autoridad como portadora de la verdad. Utilicen Mis mandamientos como su ley de la verdad en todos los asuntos. La Santa Madre protege su fe y, por lo tanto, su viaje en la verdad."

Lean 2ª Timoteo 4:1-5




Yo te conjuro delante de Dios y de Cristo Jesús, que ha de juzgar a los vivos y a los muertos, y en nombre de su Manifestación y de su Reino: proclama la Palabra de Dios, insiste con ocasión o sin ella, arguye, reprende, exhorta, con paciencia incansable y con afán de enseñar. Porque llegará el tiempo en que los hombres no soportarán más la sana doctrina; por el contrario, llevados por sus inclinaciones, se procurarán una multitud de maestros que les halaguen los oídos, y se apartarán de la verdad para escuchar cosas fantasiosas. Tú, en cambio, vigila atentamente, soporta todas las pruebas, realiza tu tarea como predicador del Evangelio, cumple a la perfección tu ministerio.
RE: Latest messages are at Holy Love Ministries (www.holylove.org) and Ministerios del Amor Santo (www.amorsanto.com)