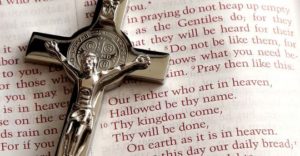 January 25, 2020 Feast of the Conversion of St. Paul

Once again, I (Maureen) see a Great Flame that I have come to know as the Heart of God the Father. He says: "One of the political parties in your nation* is about to lose face due to their power plays based upon error. This is what happens when people become so self-centered they cannot recognize the Truth."

"I speak here** always to hearts, for the state of hearts is My only concern and always has been. My Words to the world come into your heart first and then into your mind, My Messenger,*** and then to the world. Never allow anyone to interfere in that process. You have to be My Voice in a world that embraces error so readily. I speak thus publicly to you, My Messenger, to disengage those who feel inspired to interfere."

"Treat everyone with respect even when it seems necessary to be defensive. My Will is always your strength and the refuge of all believers. I can bring much good from evil. Did I not do so with St. Paul?"

"These days are fraught with wars – wars inspired by false gods. Kingdoms will unite, but the union will be evil. Do not always see union as My Will. This can open the door to a One World Order led by the Antichrist. Pay attention to the dangers which lurk and can easily attack hearts which do not belong to Me. Pray to be strong believers in the Truth. Pray to always recognize the Truth."

* U.S.A.
** The apparition site of Maranatha Spring and Shrine at 37137 Butternut Ridge Road in North Ridgeville, Ohio.
*** Maureen Sweeney-Kyle.

Read 1 Timothy 2:1-4+

First of all, then, I urge that supplications, prayers, intercessions, and thanksgivings be made for all men, for kings and all who are in high positions, that we may lead a quiet and peaceable life, godly and respectful in every way. This is good, and it is acceptable in the sight of God our Savior, who desires all men to be saved and to come to the knowledge of the truth.

+ Scripture verses asked to be read by God the Father.

 

Nuevamente veo una gran llama que he llegado a reconocer como el Corazón de Dios Padre. Dice: "Uno de los partidos políticos en tu Nación está por perder credibilidad debido a sus juegos de poder basados en el error. Eso es lo que sucede cuando las personas se centran tanto en sí mismas y no pueden reconocer la verdad."

"Yo hablo aquí siempre dirigiéndome a los corazones, pues el estado de los corazones es –y siempre ha sido– mi única preocupación. Mis palabras al mundo llegan primero a tu corazón y luego a tu mente, Mensajera Mía, y después, al mundo. Nunca permitas que nadie interfiera en este proceso. Tú tienes que ser Mi voz en un mundo que abraza el error con tanta facilidad. Te hablo públicamente de esta manera, Mensajera Mía, para mantener retirados a quienes se sienten inspirados a interferir."

"Traten a todos con respeto, incluso cuando parezca necesario defenderse. Mi Voluntad es siempre su fuerza y el refugio de todos los creyentes. Yo puedo lograr mucho bien de la maldad. ¿Acaso no lo hice así con san Pablo?"

"Estos tiempos están llenos de guerras; guerras inspiradas por falsos dioses. Los reinos se unirán, pero la unión será maligna. No vean siempre la unión como Voluntad Mía. Esto puede abrir la puerta a un Orden Mundial Único liderado por el anticristo. Pongan atención a los peligros que acechan y que fácilmente pueden atacar corazones que no me pertenecen. Recen pidiendo ser firmes creyentes en la verdad. Pidan siempre reconocer la verdad."

Lean 1ª Timoteo 2:1-4
Ante todo, te recomiendo que se hagan peticiones, oraciones, súplicas y acciones de gracias por todos los hombres, por los soberanos y por todas las autoridades, para que podamos disfrutar de paz y de tranquilidad, y llevar una vida piadosa y digna. Esto es bueno y agradable a Dios, nuestro Salvador, porque él quiere que todos se salven y lleguen al conocimiento de la verdad.
RE: Latest messages are at Holy Love Ministries and Ministerios del Amor Santo