Merry Christmas!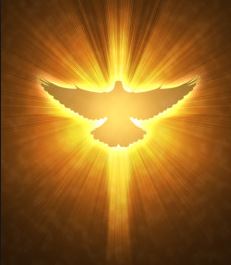 December 10, 2020
Once again, I (Maureen) see a Great Flame that I have come to know as the Heart of God the Father. He says: "Children, the door which opens upon your 'house' of holiness is your own free will. This door can easily be accessible or it can be barred by love of the world. It is a portal which Satan can easily access if the soul does not carefully lock it and bar his access. This lock is the soul's awareness in any given present moment as to where his thoughts, words and actions are leading him."

"Pray to keep holiness a goal in your day. No matter your activities in the day filled with present moments, pray to be the Message of Holy Love in thought, word and deed. Be protective of the holiness in your heart above all else. When grace knocks at the door of your house of holiness, recognize it and welcome its visit. The unwelcome visitor may come clothed in splendor and flavor, but the watchdog who tends the doorway to your house of holiness is the Spirit of Truth and will not allow him in."

"In times of need, you can enjoy the peace of your house of holiness and rest in the peace therein, for your house is filled with trust."

Read Psalm 5:7-8+

But I through the abundance of your merciful love will enter your house, I will worship toward your holy temple in the fear of you.

Lead me, O LORD, in your righteousness because of my enemies; make your way straight before me.

+ Scripture verses asked to be read by be read by God the Father.

 

10 de Diciembre del 2020
Nuevamente veo una gran llama que he llegado a reconocer como el Corazón de Dios Padre. Dice: "Hijos, la puerta que abre su casa de la santidad es su libre albedrío. Esta puerta se puede abrir fácilmente o la puede bloquear el amor al mundo. Es una entrada que Satanás puede utilizar fácilmente si el alma no la cierra cuidadosamente y asegura el acceso. Este cerrojo es la concientización del alma en todo momento presente del lugar hacia donde la están llevando sus pensamientos, palabras y acciones."

"Recen para mantener la santidad como su meta cada día. Independientemente de que los momentos presentes estén llenos de actividades, recen pidiendo ser el Mensaje de Amor Santo de pensamiento, palabra y obra. Protejan la santidad en el corazón sobre todas las cosas. Cuando la gracia toque la puerta de su casa de la santidad, reconózcanla y aprecien su visita. El visitante no deseado puede llegar revestido esplendorosamente y con gusto, pero el guardián que cuida la puerta de su casa de la santidad es el Espíritu de la Verdad, y no lo dejará entrar."

"En tiempos de necesidad, ustedes pueden disfrutar de la paz de su casa de la santidad y descansar tranquilos ahí, porque su casa está llena de confianza."

Lean el Salmo 5:8-9




Pero yo, por tu inmensa bondad, llego hasta tu Casa, y me postro ante tu santo Templo con profundo temor. Guíame, Señor, por tu justicia, porque tengo muchos enemigos: ábreme un camino llano.
RE: Latest messages are at Holy Love Ministries and Ministerios del Amor Santo